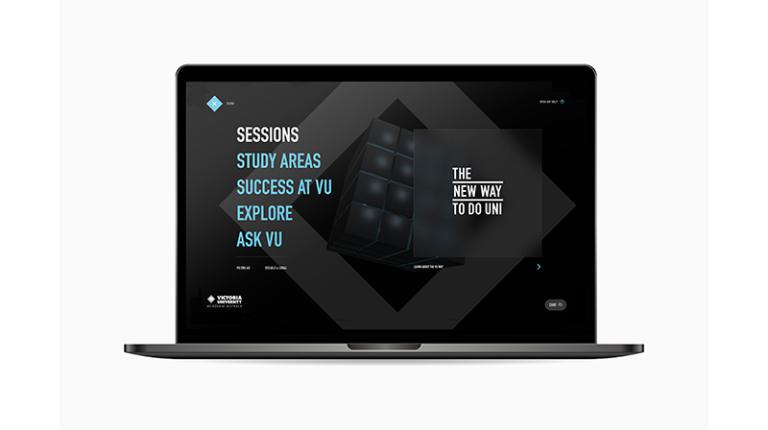 Build connections, build experience, and build your future: Victoria University's second Virtual Open Day 2021 is offering prospective students a unique opportunity to experience VU campuses via a suite of interactive 360-degree tours, and discover hundreds of courses and career paths.
No matter where you are physically, Victoria University and VU Polytechnic invite anyone with a passion for learning to design their own experience, discover a life-changing career, and engage in live chats with over 250 staff and current students about campus life and study pathways.
Throughout the day, prospective students can watch video panels with professionals offering practical advice about how to build your career at VU. Whether you are a school-leaver, parent, teacher, postgraduate student, or looking for a new career, staff and students will be ready to make the experience informative and memorable.
Want to check out a selection of VU's world-class facilities from home? Visitors can take part in a suite of immersive 360-degree virtual tours showcasing the best of VU's state-of-the-art simulation labs and workspaces. VU will also have 30 Student Ambassadors responding to the live chat forum. 
Open Day guests will also get a first look at VU City Campus. Located in the centre of Melbourne's historic legal district, Australia's tallest vertical campus is set to open in January 2022. The campus will be home to a range of higher education and TAFE courses, and features custom-designed spaces to encourage collaboration between students and select industry partners.
More highlights available on VU's Virtual Open Day 2021:
Discover how VU's award-winning Block Model is revolutionising the tertiary landscape
Learn about VU Polytechnic's flexible Blended Learning model
Find a new career or upskill with a range of Free TAFE courses
Find out how VU's exclusive VU Guaranteed program offers Year 11 and 12 students a guaranteed place at VU or VU Polytechnic.
VU's first Virtual Open Day in 2020 reached over 50% more prospective students than in 2019, and provided a personalised and immersive experience that successfully showcased the best of the University.
The sophisticated digital marketing data program used in VU's first Virtual Open Day was so successful, it was selected as a finalist in the 2021 Oracle 15th Annual Markie Awards, a global award that recognises institutions who "use data in ingenious new ways".
To find about more about the New Way To Do Uni, register for VU's Virtual Open Day, noon–6pm, Saturday 21 August 2021.
---
Note: As of 2021, the blended learning model is now known as the interactive e-learning model.