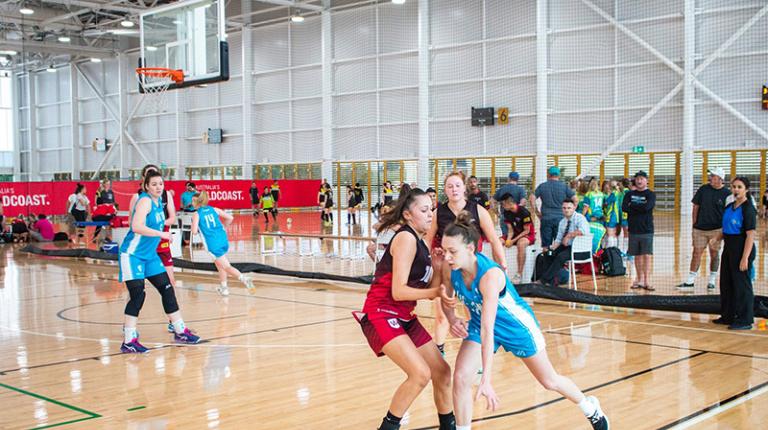 Victoria University is poised to have its best men's and women's teams compete in the inaugural University Basketball League (UBL). The UBL, a competition established by UniSport Australia, capitalises on the huge success and popularity of basketball in Australia and the university sector.
Both men's and women's competitions will be played across the country from 13 April to 26 May 2021, culminating in a finals weekend to determine Australia's number one basketball university.
Endorsed by Basketball Australia and supported by the respective State Basketball Associations, the 2021 league comprises eight participating universities including Victoria University (VU), La Trobe University (LTU), University of Technology Sydney (UTS), The University of Melbourne (MELB), The University of Sydney (USYD), The University of Western Australia (UWA) and the University of Sunshine Coast (USC).
Victoria University to benefit from hosting, playing
The competition fixture sees Victoria University hosting games at the Victoria University Community Sports Stadium - VU Whitten Oval, presenting a number of opportunities for the University.
Sports Officer and Team VU Manager Wade Spencer views the University's participation as an evolution of VU's strong basketball program and record, including consistent performances in both men's and women's competitions at UniSport Nationals:
"The UBL provides VU a platform to further engage students with the opportunity for our best basketballers to excel representing their University in a competitive, nationally recognised league."
Trials have been held to determine squads of up to 16 for each team with final selections to be announced soon followed by intensive training.
Sport Services Manager Scott Cashmere is excited by the opportunities built on existing inter-university rivalries. "We have a playing group energised by the opportunity to further develop their basketball skills in a league format, who are hungry for competition and eager to do the University proud. Equally exciting are the opportunities for the broader University community to engage, with VU hosting three of the six games and the live streaming of all games."
Students, staff, friends encouraged to support teams
"We want to build excitement and have students, staff, alumni and friends of VU get to our home games at the University's Community Stadium at VU Whitten Oval to cheer and support teams at what promises to be a unique experience for spectators," says Scott Cashmere.
"We are also getting students involved through work-integrated learning opportunities in minor supporting roles for teams and at game day events. We have our Game Day Commissioner secured, Victoria University Polytechnic Massage Students on board and there are other opportunities in the areas of venue operations, team support and liaison, student engagement and media."
VU get their campaign underway on 14 April with both teams hosting Melbourne Uni at the Victoria University Community Sports Stadium - VU Whitten Oval.
Home games
Wednesday 14 April
VU Women vs MELB - 2pm 
VU Men vs MELB- 4pm 
Tuesday 18 May
VU Women vs LTU - 1pm
VU Men vs LTU - 3pm
Thursday 20 May
VU Men vs USC - 12pm
VU Women vs USC - 2pm
Location
Victoria University Community Sports Stadium - VU Whitten Oval
417 Barkly Street, Footscray 3011