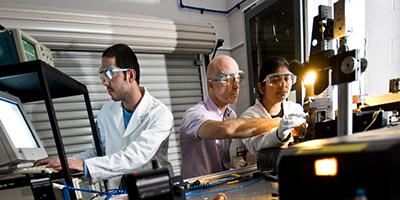 Victoria University is again ranked among the state's best universities in the innovative subjects of Engineering and Technology, and Computer Science, in the recent Times Higher Education World University Subject Rankings 2019.
VU ranked second in Victoria in Computer Science, behind only University of Melbourne (and equal seventh in Australia). In Engineering and Technology, VU ranked third in Victoria (equal ninth in Australia) behind Monash and University of Melbourne.
VU College of Engineering and Science Dean Professor Farzad Khosrowshahi said the announcement is testament to VU's strong industry links that prepare students for jobs of the future, and VU's globally important research in areas such as applied informatics, sustainability, and electronic engineering.
"We are thrilled to once again be named as among the best in these areas not just in Australia, but in the world," he said.
Rankings improve in 2018
From a pool of hundreds of institutions worldwide, VU's global rankings held strong or improved this year:
Engineering and Technology rankings climbed from the 151-175th band among 900 institutes in 2018, to the 126-150th band in 2019
Computer Science held steady in the 151-175th band among nearly 700 globally ranked institutions
'citations' proved a particularly strong area, with a top score of 100 (the best in the world) in both areas.
VU courses focus on growth areas
VU's engineering and computer science programs – ranging from entry-level diplomas through to world-class postgraduate courses in enterprise resource planning (ERP) – have been designed to focus on skills and knowledge that offer students the strongest future growth potential.
"Both these areas are strongly student-focused, with dedicated educators who span both industry and academia, locally and internationally," Professor Khosrowshah said. "The use of problem-based learning in our engineering courses ensures our students start working as professionals early on in their studies."
Research focused on improving community & environment
Research in the two subject areas is part of VU's flagship Institute for Sustainable Industries and Liveable Cities and focuses on:
Applied Informatics related to technology applications that benefit society in health, community, government, and business
Sustainability and Innovation in areas including water treatment technologies, resource management, and smart energy
Environmental Safety and Risk Engineering into fire research and environmentally sustainable building design.
The 2019 Times Higher Education rankings in Computer Science and Engineering and Technology are weighted on teaching (30%); research (30%); citations (27.5%); international outlook (7.5%); and industry income (5%).