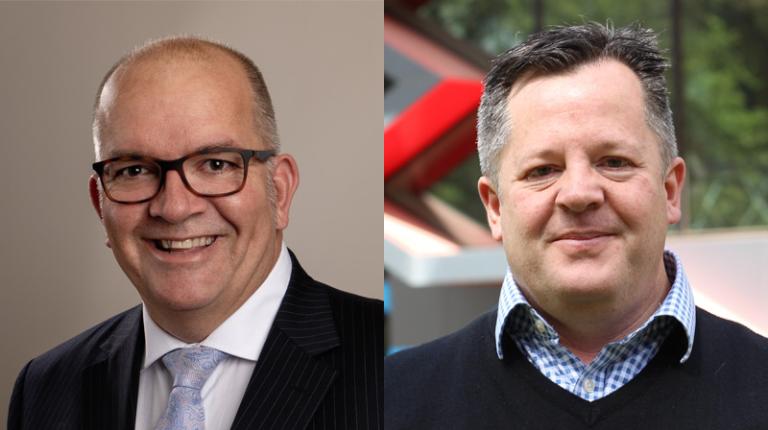 Victoria University (VU) has made two new appointments to its executive team, with the announcement of Professor Peter Radoll as Deputy Vice-Chancellor People & Organisation, and Professor Andrew (Andy) Hill as Deputy Vice-Chancellor Research & Impact.
Vice-Chancellor Professor Adam Shoemaker said the appointees would play an important role in the next stage of the University's strategic development.
"Peter's integrity, passion and consultative drive complements his outstanding professional acumen. He has inspired many as a thought leader and entrepreneur – and will continue to do so as part of the VU community," Professor Shoemaker said.
"Andy has a proven ability to embrace innovation and diversify research impact and ethical commercialisation. His authoritative and creative approach will ensure our research is industry-engaged, interdisciplinary and globally oriented."
From motor mechanic to cross-university leader
Professor Peter Radoll is a proud Anaiwan man from Northern NSW. He is currently the inaugural Pro Vice-Chancellor, Indigenous; Director of the Ngunnawal Centre; and CEO of the Economic Participation of Indigenous Communities Cooperative Research Centre at the University of Canberra (UC). 
He began working life as a motor mechanic for 11 years and progressed from that career to complete a postgraduate degree in information technology. He ultimately completed a doctorate and became a senior academic and professor in IT and systems at both Australian National University (ANU) and UC.
As a result of his diverse career, few can understand the aspirations of an excellent dual-sector university such as Victoria University better than Professor Radoll.
"My family and I are very much looking forward to calling Melbourne home and joining Victoria University at such a pivotal time. Together with the staff and students of VU, we can elevate the experience of all and contribute to a thriving place to study and work –strengthening our courageous community," he said.
Internationally-renowned researcher
Globally recognised researcher with impact Professor Andy Hill has a significant international reputation for his ground-breaking research in neurodegenerative disorders, such as Alzheimer's, Parkinson's and Prion Diseases, and in the field of extracellular vesicles.
His work continues to address some of the major health challenges of the twenty-first century – all areas that align strongly with Victoria University's priorities.
Professor Hill joins VU from La Trobe University. He is currently the Associate Provost Research and Industry Engagement (Science, Health and Engineering), where he is responsible for the strategic leadership of research, as well as developing partnerships and increasing research productivity.
With an h-index of 81 and comprehensive research track record that has attracted more than $52 million in research funding, Andy's leadership will drive VU's strategy for research with impact.
"I am excited to be joining Victoria University at this important time in its transformation. I can see many opportunities for VU to make research impacts over the next few years with its strong base and breadth of applied research and industry partnerships," Professor Hill said.
Introducing the new executive team
Professor Radoll and Professor Hill join four other staff to form the executive team for Victoria University after an extensive 6-month recruitment process. They will each be guided by the 2022-2028 Strategic Plan Start well, finish brilliantly as VU embarks on the vision to be a global leader in dual sector learning and research.
The team is led by Vice-Chancellor Professor Adam Shoemaker and consists of:
Ms Lucy Franzmann, Chief Financial Officer
Professor John Germov, Deputy Vice-Chancellor Higher Education
Professor Andy Hill, Deputy Vice-Chancellor Research & Impact
The Honourable Wade Noonan, Deputy Vice-Chancellor External Relations and Partnerships
Professor Peter Radoll, Deputy Vice-Chancellor People & Organisation
Ms Dianne Semmens, Deputy Vice-Chancellor Vocational Education.