Students recognised & celebrated at the 2022 VU Sport Awards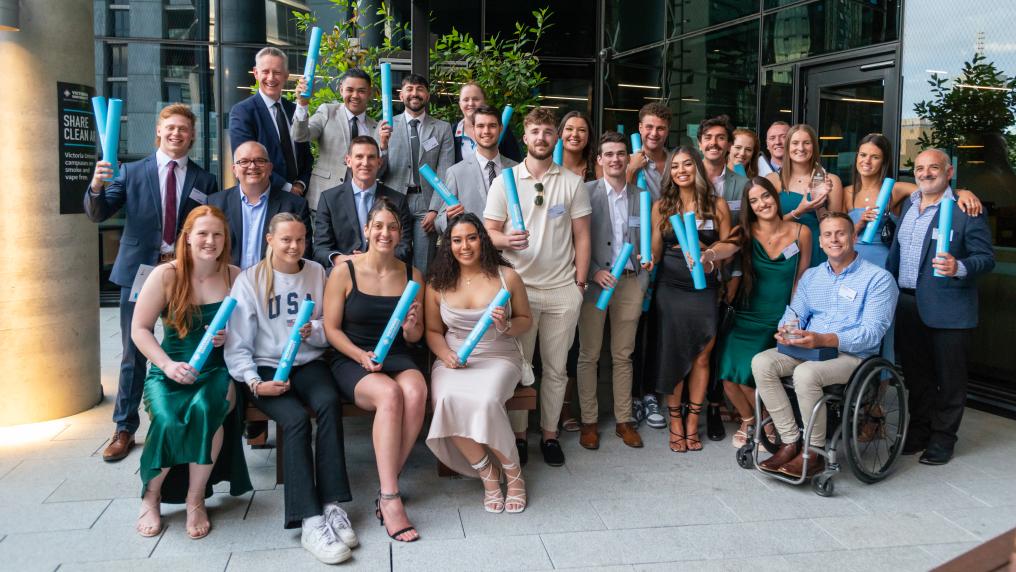 VU student-athletes, teams, clubs and alumni were recognised and celebrated at the nineteenth 2022 Victoria University Sport Awards night held 8 December.
Friday 16 December 2022
VU student-athletes, teams, clubs and alumni were recognised and celebrated at the nineteenth 2022 Victoria University Sport Awards night held 8 December.
Hosted at the VU City Tower, the Sport Awards returned in fine fashion, held for the first time since 2019.
Along with the announcement of team and club awards, individual ("Blues") were awarded to students from within the University's Elite Athlete Program representing Australia at major international events and to students for outstanding sporting performances representing VU at UniSport Nationals and Championship events.
A blue is an award of sporting colours earned by athletes for competition at the highest level. Following the tradition of Oxford and Cambridge, Blues Awards are a prestigious symbol of excellence and valued by student-athletes. Vice-Chancellor and President Adam Shoemaker presented 19 individual awards (blues) recognising outstanding sporting performances by students in the sports of:
athletics
basketball
cricket
football
indoor cricket
judo
karate
lacrosse
shooting
swimming.
The awardees come from diverse study disciplines including business, education, biomedicine, construction management, exercise science, law, psychology, osteopathy and sport management.
Acknowledging the success of the University's sporting teams and programs is dependent on volunteers on and off field as team managers, coaches and other support roles, 8 students received awards for their dedicated leadership service to VU's basketball, football, netball and volleyball programs, presented by Deputy Vice-Chancellor People and Organisation Professor Peter Radoll.
Among highlights including strong world championship and world cup performances, the night celebrated 3 current students and 4 alumni who represented Australia at the 2022 Commonwealth Games in Birmingham. Students Jack Hale - athletics (Bachelor of Sport Science), Aoife Coughlan - judo (Bachelor of Exercise Science (Clinical) and Liam Park - judo (Bachelor of Business). Aoife and Liam were instrumental in Judo Australia's historic team effort to bring home 10 medals, the most for any Australian judo team at a Commonwealth Games.
In the peak award categories, Aoife Coughlan (Judo) took home VU's Female Athlete of the Year for her gold medal at the 2022 Commonwealth Games among other exceptional international performances. Liam Park a current national judo champion and Birmingham 2022 bronze medallist was announced VU's Male Athlete of the Year.
Aoife and Liam accepted remotely via video display as their sport meant they were away training and competing. Both paid credit to VU's block model and the flexibility it provides elite student-athletes to progress units whilst also taking time out to travel and compete at the highest level.
This year's awards saw both a current student and alumna awarded with the prestigious Jacinta Carroll Academic and Sporting Excellence Award.
Ellyse Gamble Bachelor of Education (2021) who has just finished her first year of teaching whilst continuing to compete in the AFLW maintained a GPA of 7.0 throughout the duration of her course, and achieved many academic awards including:
Dean's Scholar Award (2021)
Excellence in Primary English Teaching Award (2021)
Highest Achieving Student in the Physical Education Specialism Award (2021)
AFL Players Association Education and Training Excellence Award (2021)
Innovations in Secondary Education Award (2020)
Most Outstanding First Year Bachelor of Education (P-12) Student Award (2018).
The audience were fortunate to hear Ellyse share her insights as a high performing dual career athlete, following accepting her award.
Aoife Coughlan (judo) was announced as the the 2022 recipient of the Jacinta Carroll Academic and Sporting Excellence Award.
Aoife has excelled in her Bachelor of Exercise Science (Clinical Practice) whilst continuing to achieve at the highest level in her sport. Aoife also completed a VU double-degree in Exercise Science (Human Movement)/Sport and Recreation Management (2021) with the disruption of a delayed Olympic Games where she competed for Australia. Aoife's breakout performances came in the same year achieving a fifth at the World Masters (the most prestigious event for judo behind the Olympics and the World Championships), and seventh place at the World Championships qualifying her directly for her debut Olympic Games.
Team of the Year Award went to the VU women's basketball team for their performance as national champions. Professor Adam Shoemaker highlighted the outstanding contribution of our women's basketball team.
"For the first time in the history of Victoria University they were national champions and really set the court on fire" he said.
Footscray Lacrosse Club won Sport Club of the Year. The newly affiliated club had a fantastic season results wise and won Lacrosse Victoria's Club of the Year. The club was acknowledged for the ongoing work in building VU student interest and participation.
The night concluded with VU Polytechnic alumnus Josh Hose OAM (Certificate IV in Disability CHC43115), being inducted into VU's esteemed Sport Hall of Fame. A two time Paralympic gold medallist and two time medallist at World Championships (gold and silver). Josh delivered an acceptance speech recounting his time at Victoria University and his journey, including his continued strong association with VU as a local Footscray resident as long-time member and regular visitor to VU's Aquatic and Fitness Centre.
Vice Chancellor Professor Adam Shoemaker said "VU is always making waves in sport and tonight was all about the next record breaking, industry-defining generation".
Contact us
Scott Cashmere
Sport Services Manager, Sport and Health Department (VU Sport)
[email protected]