Paralympic champion & alumnus Josh Hose OAM makes VU Sport Hall of Fame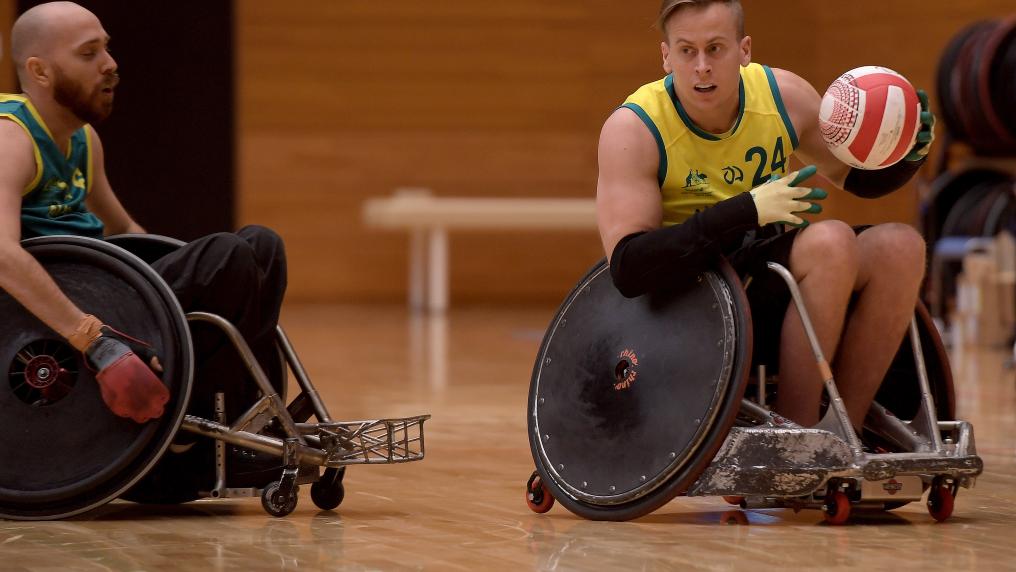 Two-time Paralympic Games wheelchair rugby gold medallist Josh Hose OAM is VU's latest inductee into the Sport Hall of Fame.
Friday 16 December 2022
Two-time Paralympic Games wheelchair rugby gold medallist Josh Hose OAM is VU's latest inductee into the Sport Hall of Fame.
The VU graduate was inducted into the Sport Hall of Fame at the University's nineteenth 2022 Sport Awards held at the VU City Tower.
Josh said he was "extremely honoured" and thanked all VU staff who have helped him along his journey to where he is today.
Josh Hose began playing wheelchair rugby as part of his rehabilitation following a car crash that left him with serious spinal damage at age 18. He was awarded a 2014 Order of Australia Medal "for service to sport as a gold Medallist at the London 2012 Paralympic Games" and recognised as a Full Blue awardee at the 2013 Victoria University Sport Awards for his outstanding sporting achievements while a student.
Josh represented Australia at two world championships, taking home gold and silver medals and was part of the team winning back-to-back gold at the London 2012 and Rio 2016 Paralympic Games in an era where the Australian Steelers became one of the most successful teams in the world.
Off the back of their success in London, the Steelers were the first team in wheelchair rugby history to win consecutive Paralympic gold medals and a world championship title in a four-year period and the second nation in history to hold both the Paralympic and world championship titles concurrently.
Joshua retired from wheelchair rugby in 2016 to focus more on his career in the disability sector. However, not one to rest, he took up the sport of wheelchair track racing, attending several international and national events. During this period, he impressively held an international top ten time in the 200m event. 
Due to interstate lockdowns the result of COVID-19, Josh was invited to help train with the Australian wheelchair-rugby team, ultimately opening a window for him to make his way back into the team for the 2020 Tokyo games.
Josh Hose OAM announced his retirement from the Australian Steelers in November 2021, ending his international career having played 152 games.
Speaking with The Camperdown Chronicle earlier this week from his home in Melbourne, Hose said he was totally surprised but "thrilled" with the recognition.
"Being recognised on the sporting Hall of Fame alongside some of the greats such as Andrew Gaze and Melanie Jones is mind blowing. I certainly have never thought of myself as being in the same league as Andrew, Melanie and many of the other names on that board. It's an absolute honour and a privilege."
A local resident of Footscray, Josh has been a long time member of VU'S Footscray Park Aquatic and Fitness centre continuing to regularly train on campus.
As Peer Support Coordinator with AQA VIC, he works with newly traumatic spinal injuries providing peer support to people with spinal cord injuries and similar physical disabilities. Josh also delivers a wheelchair skills program in the rehabilitation setting.
An accomplished speaker delivering messages to businesses, schools and community groups about road safety, setting goals and overcoming barriers to success, Josh is also a SpinChat Presenter with Independence Australia, educating students on risk minimisation and the consequences of careless or high-risk activities such as dangerous driving.
Josh Hose OAM joins an esteemed list of sporting greats in VU's Sport Hall of Fame.
Contact us
Scott Cashmere
Sport Services Manager, Sport and Health Department (VU Sport)
[email protected]