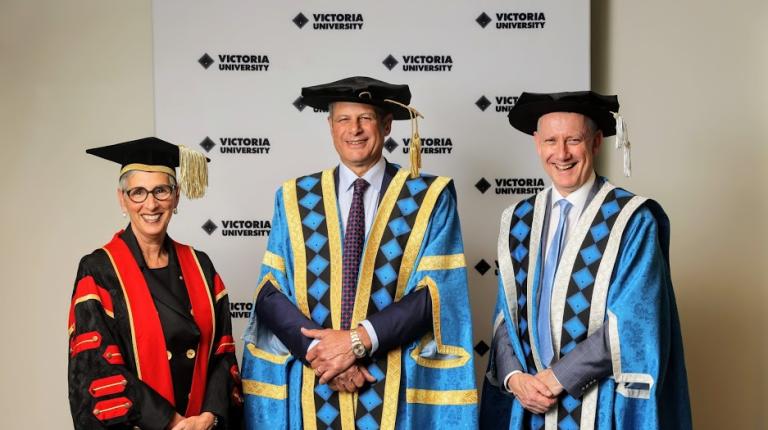 The Hon Dr Steve Bracks AC has been officially installed as Victoria University's (VU) seventh Chancellor by Her Excellency, The Hon Linda Dessau AC, Governor of Victoria, at a formal ceremony tonight at the State Library Victoria.
One of Victoria's longest-serving premiers, Dr Bracks is well-known for his educational, business, government and philanthropic activities in the state of Victoria for more than 30 years.
"The unique relationship between the Chancellor and Victoria University demonstrates a shared passion for the life-changing power of education.
"I have a strong connection to the west of Melbourne and undoubtedly there are many opportunities that continue to evolve and positively impact the diverse communities in the west. I feel privileged to have been able to contribute to this over many years, and will continue to do so as the Chancellor of Victoria University," Dr Bracks said.
"Being able to make a difference to people's lives is what has driven me throughout my career. I want to see people thrive and exceed their own expectations. I want to see people achieve success. And education plays a significant role in that."
New Chancellor has strong ties to Melbourne's west
In 2017, Victoria University awarded Dr Bracks the degree of Doctor of the University, Honoris Causa, for his distinguished service to the university. For many years he also chaired the West of Melbourne Economic Development Alliance (WoMEDA), which focuses on creating high-skills job clusters and economic activity in the region.
Victoria University Vice-Chancellor Professor Adam Shoemaker said Dr Bracks is the ideal person to inspire and lead the university as it commences its next chapter.
"He brings new governance and leadership and a renewed commitment for VU to become the premier dual sector university in the world," Professor Shoemaker said.
"The Chancellor's ability to connect with people from all walks of life and to create major impact more than qualifies him to take Victoria University forward into our next exciting phase."
"He is a cultural leader with authenticity and empathy. His commitment to social justice and inclusivity is simply stellar. His stewardship will help Victoria University build on its commitment to equity and excellence, and its growing reputation as a leading university with outstanding research and award-winning innovations such as the Block Model."
Dr Bracks joins an impressive list of Chancellors who have led VU since it became a university in 1990. He succeeds:
journalist and academic Creighton Burns AO (1990-1994)
scientist Peter Laver (1995-2000)
Supreme Court judge Frank Vincent AO QC (2001-2009)
distinguished businessman George Pappas AO (2010-2019)
company director and business advisor Wayne Kayler-Thomson and senior executive at Museum Victoria Gaye Hamilton (2020).
Chancellor Steve Bracks AC addresses the audience