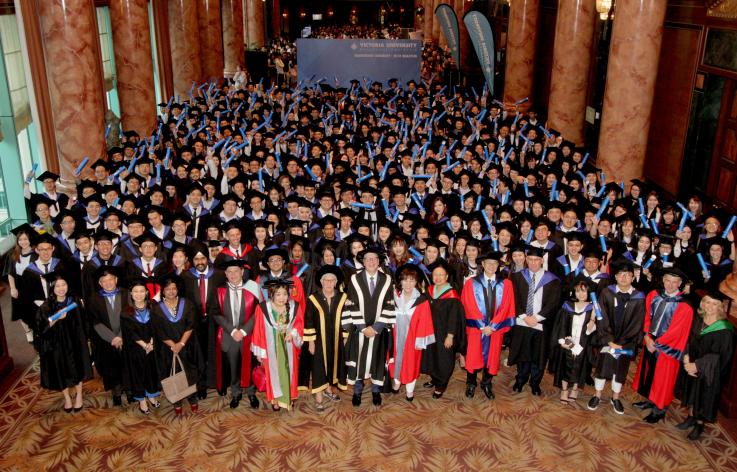 Garbed in black caps and gowns, students studying VU courses at Sunway College and elsewhere in the world, graduated at the VU Malaysia ceremony on 15 April.
Held at Sunway Grand Lagoon Ballroom in Kuala Lumpur, the ceremony saw 346 students receive degree and master testamurs in disciplines including education and business. The annual ceremony offers graduates an opportunity to celebrate and reap the rewards of their hard work and study. In total, more than 750 students graduated from VU programs delivered by our partner universities in 2017.
VU's Deputy Chancellor, Gaye Hamilton, presided over the ceremony with Vice-Chancellor Professor Peter Dawkins and other senior VU and Sunway staff in the academic party. Approximately 700 guests attended, including invited VIPs, family members, and Sunway academic staff.
Occasional speaker Malkit Singh, Master of Business Administration graduate, spoke about his inspiring career journey as the Group Chief Financial Officer at Bank Islam Malaysia Berhad. Valedictorian Jamie Ooi Zhi Yuan, Bachelor of Business graduate, spoke on behalf of graduates and reflected on her own journey throughout her degree, thanking parents and VU staff. Jamie was awarded the Tan Sri Dr Jeffrey Cheah Scholarship Award for overall best student and a STAR Education Scholarship.
The graduation ceremony is the centrepiece of a range of partnership activities including the VU-Sunway Education Group Board Meeting, alumni activities, and functions with current students. The VU-Sunway partnership, with approximately 1,200 students, is one of the oldest and most successful in Malaysia, with many thousands of alumni in senior positions across the globe. An emerging and welcome feature of the partnership is a large increase in two-way student mobility.
VU Transnational Education Director Rhys Williams said that the graduation was a "truly special" celebration of and testament to VU's successful transnational education partnerships in Asia.
"An international education experience is an important component of vocational success today. The partnership with Sunway is a model of this for students, staff and both organisations," Mr Williams said.
Graduates will now join VU's global networks of over 240,000 strong alumni, and make valuable contributions to their local community.