Wednesday 26 September 2018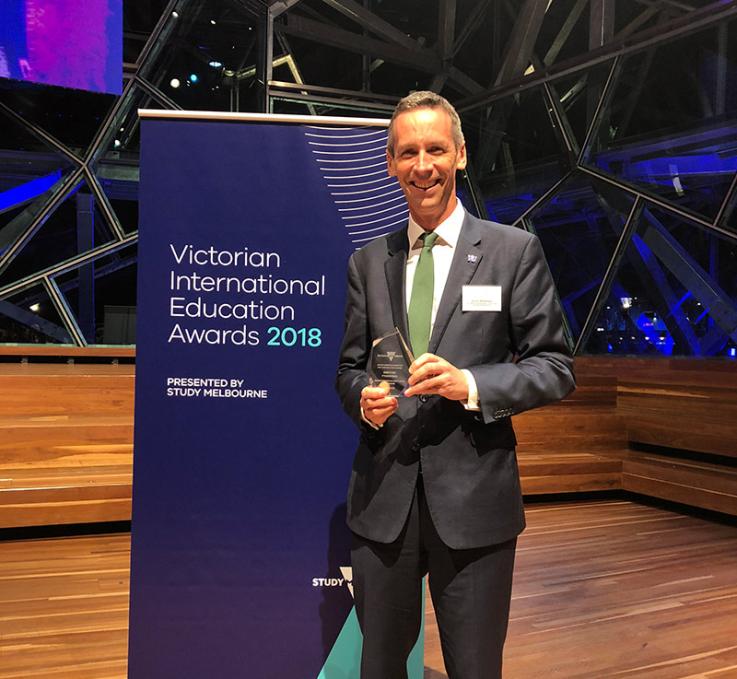 Victoria University (VU) has won one of the Victorian Government's highest honours for excellence in international education following the overwhelming success of its Australian-first block model of teaching and learning.
VU took out the Excellence in International Education – University category of the Victorian International Education Awards on 25 September for its unique model of teaching units one at a time in intensive four-week blocks – one of the most significant innovations ever undertaken in Australian higher education.
The award is presented biennially by the Victorian Government to a university that has demonstrated outstanding achievement in all aspects of the delivery of a university experience to international students.
"Crucial to the success of the block model has been the establishment of our First Year College, in which we brought together a specialised group of teachers dedicated to supporting our students in their first year of university," said VU International Director Bronte Neyland.
"This award would not have been possible without the passion and commitment from these talented individuals." 
"To implement the block model Victoria University also re-imagined the curriculum through a student lens, requiring a pedagogical shift that has resulted in a more engaging learning experience that has already delivered significant improvement in academic results," said First Year College Dean Professor Andrew Smallridge. 
Pass rates for VU's international students have improved from an average of 86% before the introduction of the block model to over 90% so far in 2018;
60% of VU's international students have received a High Distinction or Distinction to date compared to 40% in 2017, with the same assessment standards in place.
Innovative and inclusive
VU's First Year College enables students, both domestic and international, to flourish at a university that takes an inclusive approach to education, given its inherently diverse student body.
"International and domestic students are integrated during their studies, fostering inclusion and a deeper sense of belonging from the moment an international student enrols," said Ms Neyland.
Building on Victoria's growing reputation for innovation in Australian education, VU's block model and its accompanying unique student experience give international students the best chance of fully participating in university life and reaching their potential, academically and personally.
With its smaller class sizes, prompt feedback, specialist teachers, group work, customised curricula, and complementary activities such as leadership development, VU's block model is now proven to support the success of domestic and international students as they settle into their studies.
It was launched in early 2018 as the First Year Model, and will now be rolled out to all bachelor and coursework master's degrees starting next year.