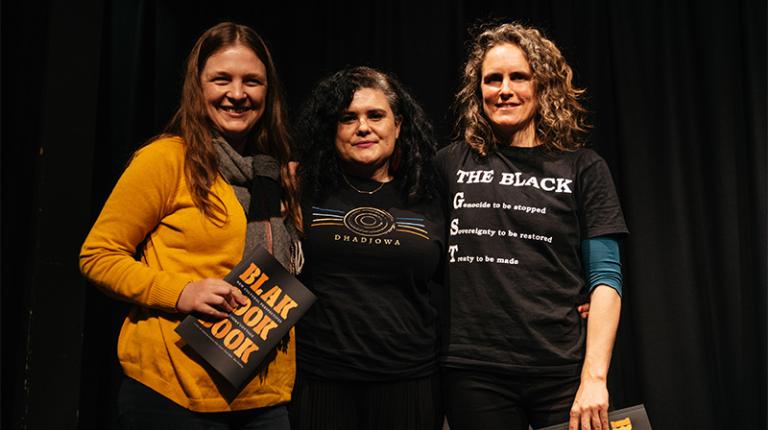 Blak Cook Book, shortlisted for a Victorian Community History Award, challenges the one-sided view of explorer Captain James Cook and looks at the man, his journeys and all that he symbolises in Australia and the Pacific from a First Nations' perspective.
The City of Melbourne commissioned the book in 2020 in the spirit of truth-telling and to mark the 250th anniversary of Cook's first Pacific voyage. The three artist/academic authors have worked extensively in the fields of First Nations history and Indigenous-led struggles.
Dr Clare Land is a non-Aboriginal Academic/Researcher at Victoria University's Moondani Balluk Academic Unit. She conducts community-based research drawing in particular on the Aboriginal History Archive established by Professor Gary Foley, and is known for her book Decolonizing Solidarity.
Dr Paola Balla, Wemba-Wemba and Gunditjmara woman, curator, artist and academic/researcher at Victoria University's Moondani Balluk Academic Unit, specialises in contemporary Indigenous art and Aboriginal women's art.
Kate Golding, a settler Australian artist, uses photographic processes to examine colonisation. Her current focus is First Nation sovereignty, the memorialisation of Captain Cook and the creation of counter-monuments.
In witty text and historic and contemporary artworks, with a striking design by RMIT design academic Dr Stephen Banham, the book explores Cook's brief from the British Admiralty, his interactions with Indigenous people, his often violent navigation of Indigenous laws and culture, his legacy and how the "Captain Cook discovered Australia" teaching alienates and confuses children.
Cooks' Cottage, a house the explorer never lived in, transplanted to a region he never visited, is seen as symbolic of this one-sided view of history. The authors centered their research on First Nations perspectives, agency and analyses in relation to Cook's voyages and legacy, beginning with the Gunai/Kurnai observing Cook's approach towards their coastal territories and communicating intelligence about his movements northwards to warn other nations.
Cook's three voyages gave the British government an overview of the entire Oceania region and a good understanding of their prospects for exploiting its lands and resources.
In the chapter De-Cookalisation (a term coined by artist James Tylor), the authors write about the British government's formal colonisation of the Pacific, through to present exploitation, as being a time of land theft, forced movement of First Nations peoples, infection, indentured labour, nuclear tests, mining, environmental degradation and pollution.
"To many First Nations peoples all over the Pacific, Cook remains a 'Great White Evil'," the authors say. "Cook's voyages from 1768–1779 inaugurated massive disruptions to people, land and life across the Pacific. But the survivance of First Nations peoples and cultures has mediated this impact. A strong spirit of resistance comes across in First Nations' perspectives on Cook. Most of Aboriginal history existed BC (Before Cook) and life goes on in the immediate and longer-term aftermath of colonisation."
Blak Cook Book – includes a fold-out poster – is available free of charge at the Fitzroy Gardens Visitor Centre. Alternatively you can download the book.
The Victorian Community History Awards are presented by the Public Record Office Victoria and the Royal Historical Society of Victoria. The winner of the Premier's History Award and winners in the other nine categories will be announced towards the end of October coinciding with History Month.