A different future for human rights in Australia
Friday 29 September 2023
Craig Foster AM has called on all Australians to imagine a future where change is possible in a passionate and stirring speech for the 2023 Sir Zelman Cowen Centre's Annual Oration. 
Held at Victoria University's (VU) Sir Zelman Cowen Centre (SZCC), Mr Foster, former Socceroos captain, award-winning broadcaster, and leading advocate for refugee and human rights focused on this year's 75th Anniversary of the Universal Declaration of Human Rights. 
He highlighted the current state of human rights in Australia and internationally – while optimistically looking towards what the next 75 years could bring. 
"We're going to take an optimistic view. I'm both an optimist and an activist, I think you need to be both to be an activist," he explained. He acknowledged advocacy "can feel like we're fighting against intractable, immovable objects". 
Fundamental human rights
Access to food is about who we care about and who we're comfortable leaving behind. Food is just the prism through which we see discrimination, and inequality. And First Nations communities all around the country are at the very forefront of that." 
He imagined a future where no Australian is unable to feed themselves and their families, and where homelessness no longer exists – where currently "the housing prices and rising financial stress are pushing more than 1,600 people into homelessness every month". 
Having a roof over our head, for obvious reasons, is a basic human right. And yet it's not one that we feel strongly enough about in Australia to uphold. How can it not be a priority if we talk about equality? How can it be that not everyone is yet housed?  

(And) what about the right to protest? In future, let's see that protected and valued. We've seen oppressive fines to protect large polluting industries from citizens instead of fines for environmental degradation that is killing the planet." 
Sharing his experience visiting Port Morseby detention centre as an Amnesty ambassador, Mr Foster recounted "people in this compound with burns all over their arms, on their necks, on their hands, with cuts all over their body and I heard many many stories of harm". 
"The future of Australia and the world has to be a place where asylum seekers and refugees are welcomed; where they are considered human, and that's still a big leap. Where Australia understands the drivers of human mobility." 
Reflecting on the Referendum, the Uluru Statement & racism 
"I sat with Stan Grant, with one of Australia's most credentialed, brilliant journalists, who also happens to be a First Nations man. And in speaking about the Coronation… what we saw, was abuse, which is normal in social change, that I received on my social media accounts and others, but for Stan, a torrent of abuse, coupled with awful, vicious, vile, racialised vilification. 
"Two men, two Australians, two prominent Australians sat on there at the same time, speaking about largely the same thing. Today one had to leave his role to save his mental health. 
The Voice and the Uluru Statement is an historic opportunity for us to reach back in history. To reach back in history to 1788 and join hands with First Nations and say we hear you, we get you, we are together. We respect, you, we love you, and we want to make it right. That's all we are talking about. But whatever happens on October 14, we have to talk about racism." 
SZCC Executive Director Ms Nyadol Nyuon thanked Mr Foster for an honest and powerful speech and reflected on his experience visiting detainees in Papua New Guinea, and the impact of ignoring human rights obligations. 
"We forget, in a privileged country, that we too are dehumanised by that process. We have to shut a part of our humanity to not see people break. And, in acting for change, it is as much for those people as it is about reclaiming our humanity – for refusing those acts to be done in our name; justified in our name," Ms Nyuon said.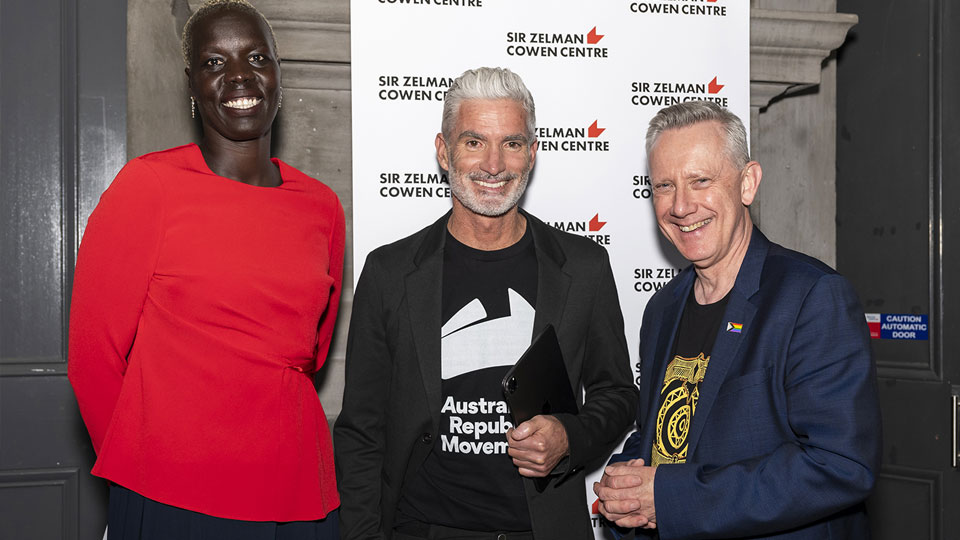 Photography by TJ Garvie.