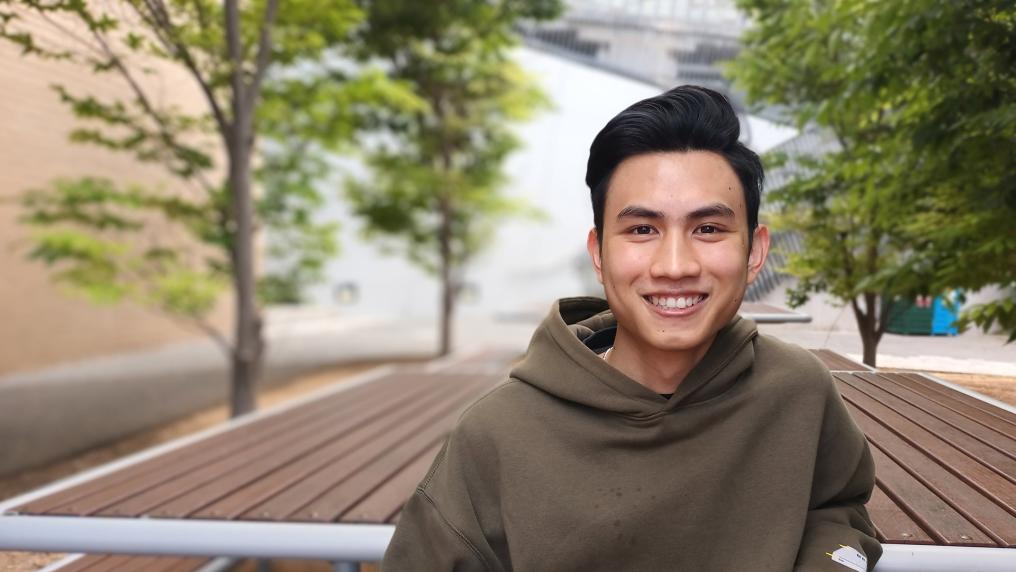 At VU, I've become more independent, done well in my studies and made friends from all over the world. I made a wise decision to come here.
Tri Vu Minh (Vietnam)
Bachelor of Business
Tri Vu Minh is the first student to take part in a program run by Victoria University and Van Lang University in Vietnam, as he studies a Bachelor of Business . He shares the highlights of his Australian adventure so far – from the diversity of a city like Melbourne, to on campus activities at VU.
"When I first heard about the joint degree between Van Lang University and VU, I was immediately attracted to the idea of being able to complete my degree in Australia. I researched VU online, and the Block Model system sounded great.
"I was already studying at another university, but I decided to transfer to Van Lang so I could enrol in the VU program. It's an affordable option to start in Vietnam and graduate with a great international degree after only two years in Australia."
Great friends & connections
"When I first arrived at VU, I really enjoyed the orientation week, going to parties at all the campuses and getting involved in activities. I spent a day tree-planting at Werribee Campus and watched a film at the Footscray Park twilight cinema.
"I made some great memories, enjoying the university environment and meeting other students at parties. It's really easy to make friends because Australia's so multicultural. I've met people from all over the world, and we have fun going to the beach together or hanging out after class.
"I also joined the Student Leadership Program, which organises activities to help students build their experience and connections. Friends I met at the orientation gave me advice about how to find work in Australia, and I started my first part-time job only two weeks after arriving."
Succeeding one step at a time
The Block Model was a big reason why I wanted to study at VU. It's a teaching method that involves studying one unit at a time, in small, interactive classes. And it really works – it's definitely reduced the pressure on me and allowed me to focus on my study.
"I live in a share house with Vietnamese students at other universities in Melbourne. At the end of their semesters, I always see how stressed they get and how hard they work, staying up all night to do assignments. I'm glad that never happens to me.   
"I'd recommend VU for lots of other reasons, too, including the teaching, resources and support. The City Campus has state-of-the-art facilities and equipment; it's a great place to focus on your study. And Footscray Park has a beautiful river and park nearby, so you can enjoy the fresh air and relax." 
Experience the world in one city
"Melbourne's a city full of culture, with people from all over the world. There's a big Chinatown in the city, Footscray's full of Vietnamese restaurants, and many different festivals are celebrated. It's a great place to experience all the cultures of the world without travelling.
"When I moved here, I had to do everything myself, which has made me much more independent. In terms of study, I'm getting confident too. I got a high distinction for one of my recent projects, which was partly thanks to my great teachers and team."
I hope to get more good marks, and I'm already thinking about doing a master's at VU. I feel really confident that studying here will help me a lot in the future.
Interested in a career in business?
VU offers undergraduate and postgraduate courses in business, giving you the skills and experience for an exciting and rewarding career.