Keeping signs & graphics alive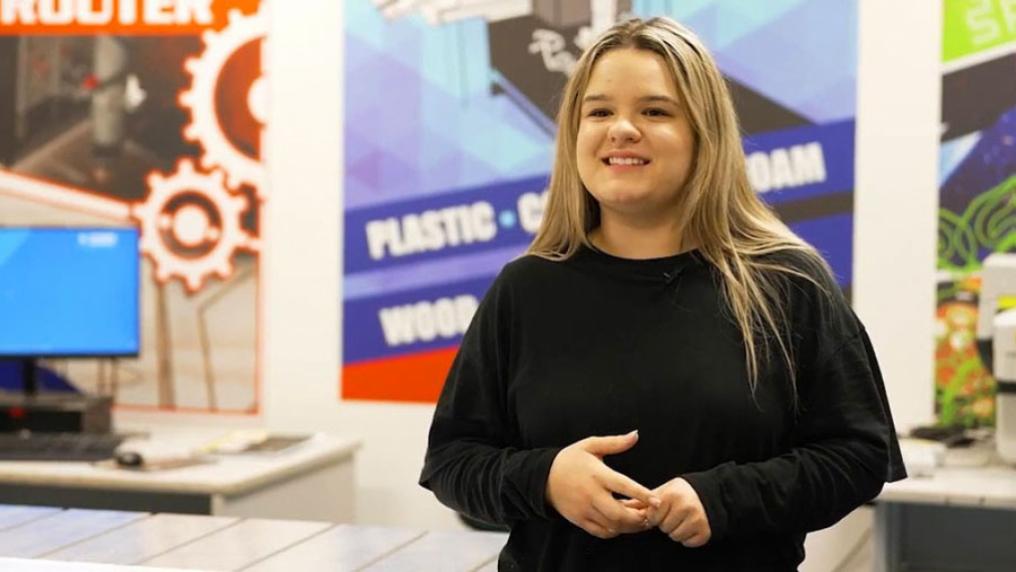 This signwriting apprenticeship came up and I thought, 'This sounds way more exciting than sitting in a classroom and doing more exams.'
Paris Doehmann
Certificate III in Signs and Graphics CPC30216
Paris Doehmann had the opportunity to study law, but her real dream was to do something more hands-on. She shares how she's found her passion for signwriting through an apprenticeship at VU Polytechnic.
"I've always had an interest in design. When I graduated Year 12, I actually applied for university law degrees and I was accepted, but I had no interest in it. I'm very much a hands-on type of person, and I wanted to do something different.
"Then this signwriting apprenticeship at Qantas came up and I thought, 'This sounds way more exciting than sitting in a classroom and doing more exams – I'll give this a go.'
"So I applied for the apprenticeship and was accepted and enrolled in the Certificate III in Signs and Graphics CPC30216.
"VU Polytechnic is the only school in Victoria that teaches signwriting, which means we have students from all over Victoria, which is a really nice factor."
The next generation of signwriters
Sign and graphics is a dying trade, so being given the opportunity to learn the trade and be part of the next generation to keep it alive is something I wouldn't have gotten from other career paths I might have chosen. 
"Having teachers who have been in the industry for many years and getting to learn their 'tricks of the trade' firsthand is definitely a contributing factor to why I enjoy the coursework.
"Being able to be creative and see the process and results from start to finish on a job is truly a satisfying feeling.
"Also, as a small trade within construction, being able to come to VU and meet new people and the new friendships I got to create is something that I will carry with me throughout my career as a signwriter."
Designing her perfect career
"So far I've absolutely loved the apprenticeship. Working at Qantas, our trade is quite specific for the aircraft. Yet coming here, I've learned so much more and it has opened my eyes to how much more can be done within the industry – from the modern, digital processes to the traditional side of signs and graphics.
"I definitely do enjoy the digital side of things, but I really enjoy traditional signwriting – your typical hand painted signage, gilding and 'old school' aspects of the trade.
"My goal once I'm fully qualified is to continue to build on my skill within my workplace and to also build and work on my skills that involve the traditional side of signwriting."
Interested in a career in signs & graphics?
VU Polytechnic is the only school in Victoria to offer a qualification in signs and graphics – your starting point for a creative and hands-on signwriting career.
Learn more about the Certificate III in Signs and Graphics CPC30216.