A whole new ball game: How Matt landed his dream job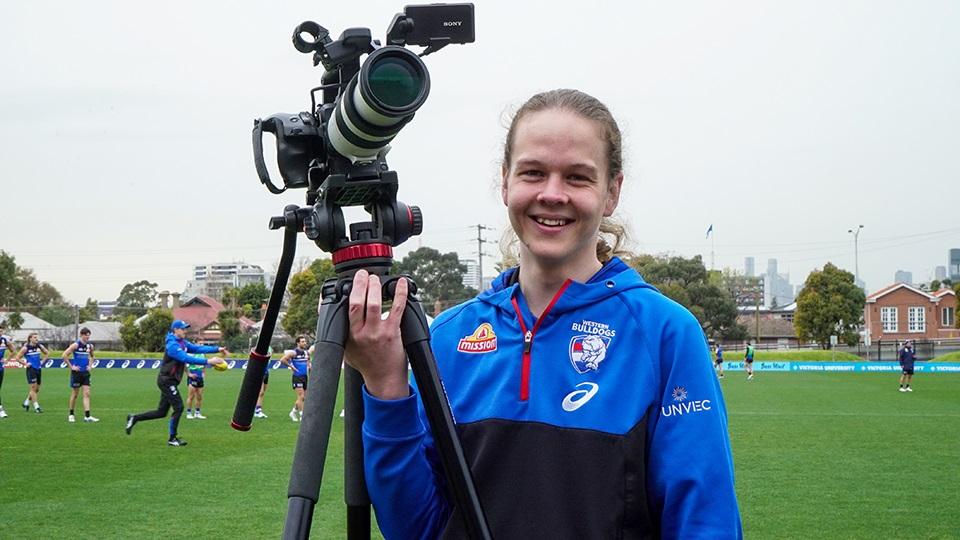 I get to work with the amazing people in our content team every single day, all while combining my loves for media and footy, as my job!
Matt Basto
Bachelor of Screen Media
Like many students when choosing their uni course, Matthew Basto opted for what seemed right on paper, before deciding it was more important to follow his dream. VU's Bachelor of Screen Media offered hands-on learning in state-of-the-art facilities, and opportunities for placement with industry partner the Western Bulldogs that have seen him kick goals early in his career.
Tuning in to his passion
"As a kid I loved making movies at home using the family camcorder, and all throughout high school I studied media subjects and game-making.
Straight out of school I was accepted into a Bachelor of Information Technology at another uni, but I quickly dropped out, realising that it wasn't for me. I knew I'd prefer to study media/film.
VU's Bachelor of Screen Media appealed to me because, unlike courses at other unis, it covered a range of different mediums. It covered hands-on learning in filmmaking, radio production, virtual and augmented reality, motion graphics, visual effects and writing. The newly refurbished TV studio facilities attracted me too."
Block Model advantage
"Towards the end of my degree, VU introduced the VU Block Model. The Block Model works well with its shorter timeline and workshop-style class three days a week, which enables better connections with classmates and teachers. Learning one unit at a time rather than four is also key to maintaining focus."
From placement to kicking career goals
"The emphasis on practical placement was such an important aspect of my degree. We completed projects that were briefed in by real clients, which enhanced our employability.
My first industry work experience was a promotional group project, with the Western Bulldogs Community Foundation. Following this I gained a 150-hour digital video cadetship with the Bulldogs where I got to edit and assist filming players and staff from the AFL and VFL.
I gained confidence and skills in leadership, teamwork and communication, while I got a serious sense of how fast-paced the sports video industry is. It also clarified this was something I wanted to do once I finished my study!
During 2020 the club offered me work during lockdown. I worked from home working as an editor with the other videographer who was working from the Queensland hub. Subsequently, I was fortunate enough to be offered a full-time role.
As one of two video producers at the club I get to help create the video content you see on the website, social media and the big screen on game day. I get to work with the amazing people that make up our content team every single day, all while combining my loves for media and footy as my job! The environment at the Bulldogs is one that is incredibly friendly and an absolute joy to work within."