Learning environments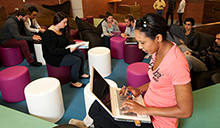 Both the online and physical learning environments are critical to effective learning and teaching at VU.  Learning Environments sets the direction for, designs, and evaluates improvements in these spaces, and provides support for staff wanting to enhance the student experience through innovative use of these environments.
VU Collaborate (eLearning) help site
Visit the VU Collaborate help site for everything you need to know about how to use VU Collaborate and other eLearning tools (ReVU, Blackboard Collaborate, Turnitin)
VU Collaborate (eLearning) student help site
Support your students in their use of eLearning tools by directing them to this comprehensive VU Collaborate student help site and regularly updated blog.
Learning Environments blog
Follow the Learning Environments blog to stay up to date with timely advice, tips, tricks around our online and physical learning environments and blended learning more generally.  
VU Collaborate (eLearning) training opportunities
To improve your skills with our eLearning tools, register for VU Collaborate training via the training calendar, book in for a 1-1 online consultation, or review recordings of previous training sessions via the training map.