When practice makes perfect
What sets one university graduate apart from the rest?
When it comes to beating the crowd, teachers and principals reveal it's hands-on experience that gives Education graduates the confidence and edge they need to ace their interviews and begin fulfilling careers.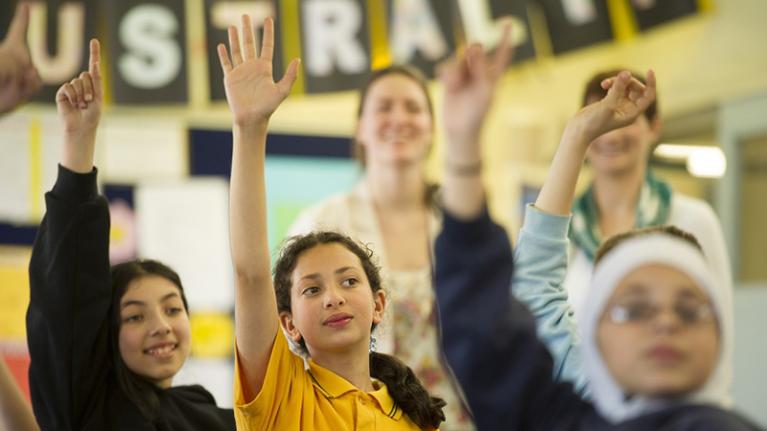 Real-world teaching experience key
Learning in the real world
It's intuitive and well-known that 'doing' is the best way to learn. It's one thing to learn from a textbook, in the classroom or even chatting with your classmates. But getting out into the real world and applying that knowledge, as you learn, is the most effective way to become an expert in your field.
Bill Lucas from the Mitchell Institute (VU's education research centre) discusses the importance of 'Transfer' – a way in which we apply our learning to other aspects of life to effectively master it:
"Transfer is the Holy Grail of teaching. And we are just beginning to understand its mechanisms. We know, for example, that a transfer is helped if, when you first learn something, you think where else you might use it."
With VU's Bachelor of Education (P-12) offering 25% more placement days than required by the Victorian Institute of Teaching, VU offers the 'transfer effect' right from the early stages of your degree.
Finding the best candidates
For Aireys Inlet Primary School Principal Jennifer Abel, it's the placement experience offered by VU that helps her hire the best candidates, and ensure they are committed to the career ahead of them.
"Focusing on industry experience is of critical importance," she says. "It's so important for students to learn how to work with not only the children, but their colleagues, and to gain those organisational skills."
"We lose many graduates because they're just not prepared for the classroom. They need that preparedness that unis like VU offer through practical placements.
Other institutions are still teaching traditional methods – but the practical training VU offers can't be beaten.
Making the most of placements
Joshua Le graduated from his Education degree from VU in 2016 with a clear advantage. With extensive experience already on his resume, Joshua transitioned from student to teacher in no time thanks to his placements experience and networks.
The placements are where the real learning happens. In my final year, I was expected to really take charge of what I wanted to accomplish during my pre-service teaching.
"I was able to make connections with other staff members, and because of that, I'm now working at the college (where I did my final placement) as a Year 9 Maths teacher."
Take your learning global
If you're thinking of getting a global learning experience, VU offers international opportunities to take your learning not only outside of the classroom, but outside of the country.
Education students participate in international practicum placements in China, Malaysia, Timor-Leste, and Indonesia. Students from other disciplines also have the opportunity to take their studies abroad and gain a truly global learning perspective.
Find out more
What are you waiting for?
Make practice perfect today and find out more about VU's Education courses.