10 ways to take care of you at VU
Whether you're desperate for a pampering, or you need to talk to an expert about your health and wellbeing; it's important to take the time to look after yourself.
As life reopens post-COVID lockdown, VU's supervised clinics offer hair and beauty, osteopathy and psychology for students, staff and the community – for free or at heavily discounted rates. Our sport clubs and active living program can improve your fitness and wellbeing.
And here's the perk: while you benefit from these services, VU and VU Polytechnic students get the training and experience to start their careers before they even graduate.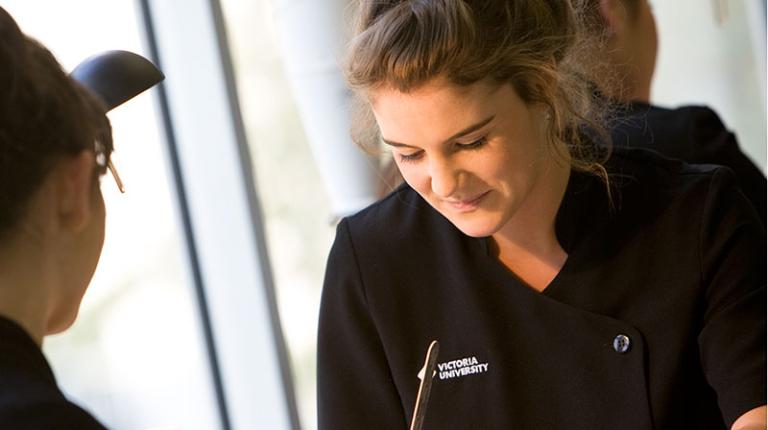 Take care of yourself with these VU services
1. Don't hold back – see an Osteopath
Receive professional osteopathic services from fourth year VU students under clinical supervision, at two campuses. Services are free for VU staff and students and at reduced rates for the community.
2. Hair today
Have your hair cut, coloured or straightened by VU students under the supervision of experienced hairdressers at discounted prices.
3. Tend to your skin at VU Dermal Clinic
VU students under clinical supervision can treat a variety of skin conditions, including with laser treatments, chemical peels and microdermabrasion at the Dermal Clinic.
4. Reinvigorate with massage clinics
A range of massage services including relaxation, therapeutic and sports massage are available at discounted rates at City and VU Whitten Oval Campuses.
5. Pamper yourself at Aura at VU
Make-up, facials, manicures, waxing, haircuts, spray tans, eyelash extensions – even eyebrow feathering at discounted prices at Aura, VU's day spa and salon.
6. Join in with the active living program
Thrive is VU's active living program offering a bunch of free activities for staff and students (predominantly online semester 1, 2021), designed to improve your health, performance and personal fulfilment. Enjoy outdoor activities and water sports to seminars and workshops.
7. Talk it out with an expert
VU's Psychology Clinic is available to adults, children and groups to talk to expert postgraduate psychology students under supervision and at discounted rates. The clinic is currently open for face-to-face and telehealth appointments. VU students also have access to counselling through the student counselling service.
8. Get active with campus and social sport
Take part in lunch time sports, regular competitions and Adventure Fridays with VU Sport.
9. Keep fit at state-of-the-art gyms
Access our gyms (including swimming pool at Footscray Park) and fitness classes – at discounted prices for students.
10.  Join the team – sport clubs
There are a whole range of sport clubs you can join at VU. It's the perfect way to get out and meet new people and have fun while keeping fit. Our sporting clubs are returning with a phased approach.