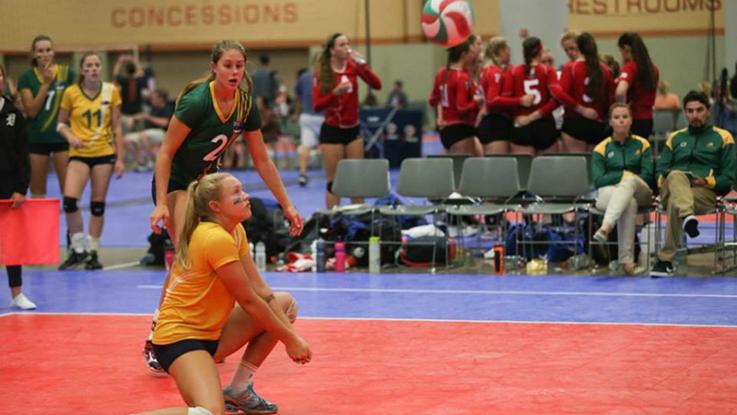 Mikayla Adam has become one of over 100 students to start a VU degree at the end of April with the opportunity to complete the first year in full.
The second intake had delayed their Victoria University studies for a variety of reasons. Among them were students who had left other universities, career-changers, parents stopping home duties, and others who, like Mikayla, were unable to start their degree in February.
Late enrolments able to catch up
Mikayla has recently returned from a college volleyball scholarship in the United States, and is excited to have started her Bachelor of Physical Education and Sport Science. 
"Knowing that I will be able to complete all of first year and then start second year in February is great," says Mikayla. "I know I'm not losing any time."
"I have joined students who started this February with their Bachelor of Physical Education and Sport Science for the six remaining subjects. At Winter School, I'll be able to do one of the subjects I missed and the other one at Summer School."
Mikayla is also part of our elite student athlete program. The program provides support to help students like her complete their studies while training and competing at an elite level. 
VU's First Year Model unique in Australia
Victoria University is the only university in Australia able to offer a full first year to students who have missed the first two months of the academic year.
An Australian-first, exclusive to Victoria University, the teaching model has been used in Sweden for over 40 years. Classes are small (generally around 30 enrolled students per class) and there are no lectures or tutorials. Each subject is taught by an academic for four weeks with a focus on interactive classroom-based activity. Students then move on to another subject for the next four weeks.
"I knew I wouldn't be left behind when I started at the end of April," says Mikayla. "I have one academic taking me for my first four weeks at Victoria University so I am to focus on that one subject. I know if I don't understand something, I'll be able to ask straight away during class or immediately after the class.
"With assessments throughout the subject, I am also getting immediate feedback on exactly how I am going."