VU signs MOU, announces ICN Victoria as its first City Tower tenant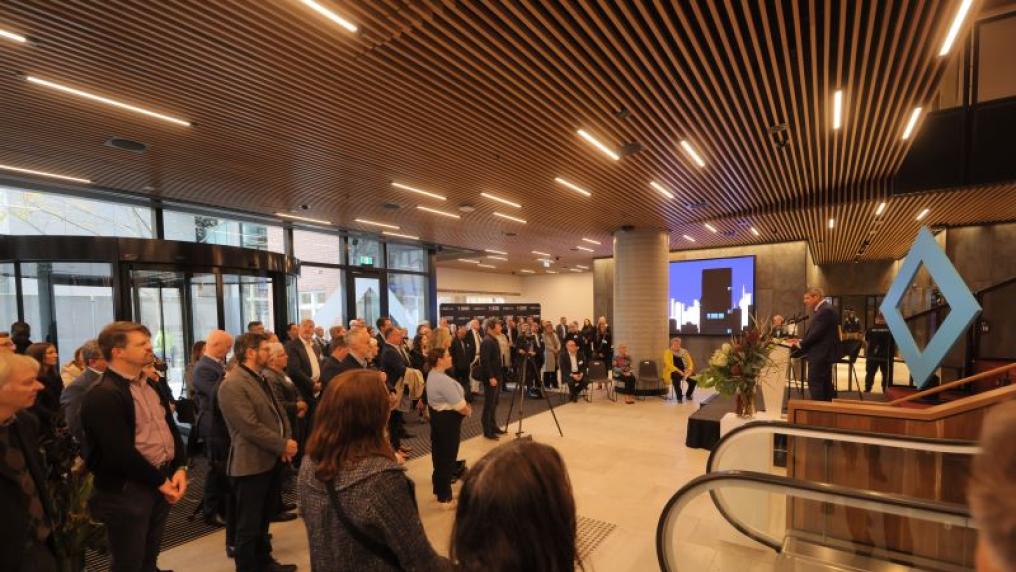 Victoria University (VU) has signed a Memorandum of Understanding (MOU) to expand its relationship with the Industry Capability Network (ICN) Victoria.
Tuesday 31 May 2022
Victoria University (VU) has signed a Memorandum of Understanding (MOU) to expand its relationship with the Industry Capability Network (ICN) Victoria.
The three-year partnership was announced at today's formal opening of the University's new 32-storey City Tower in Melbourne's CBD, where ICN will be the building's first industry partner tenant.
The move brings the University's flipped campus approach to life, where industry is at the core of each campus, and offers seamless synergies between students, staff, and partners.
ICN Victoria CEO Dianne Smith and VU Deputy Vice-Chancellor, External Relations and Partnerships, the Honourable Wade Noonan, described the significant opportunities that lay ahead for both partners when signing the MOU.
Together, VU and ICN will offer unparalleled opportunities to students, employers, and industry partners of all sizes to meet state-government procurement requirements, and deliver tangible services that ensure financial stability and development of the region.
ICN's key role in Victoria's economic recovery and sustainability by matching state-government projects with its network of more than 20,300 suppliers across Victoria, aligns well with VU's mission to drive education, training and employment in the region.
Taking the partnership to the next level
VU has previously used ICN's opportunity-matching database, ICN Gateway, to identify tender opportunities. For example, through the Gateway, VU was recently selected as education provider for Australia's first apprenticeship-degree program sponsored by Apprenticeships Victoria, the Australian Industry Group and British Aerospace (BAE).
The MOU will help take this partnership to the next level, drawing on the significant networks and capabilities of both organisations.
"ICN's partnership with VU is the logical next step in our relationship. We have a shared vision to transform, activate and support the business community in Victoria by leveraging VU's unique position in the west," said Ms Smith.
VU Vice-Chancellor Professor Adam Shoemaker added he was thrilled with the ICN-VU partnership.
"This collaboration began in earnest just over a year ago. Thanks to the collegial work undertaken by Dianne Smith as well as the creative dedication of our Chief Infrastructure Officer, Richard Constantine and his team, this agreement has come together remarkably fast. The collective potential is enormous," said Professor Shoemaker.
Features of the partnership
VU professional training and micro-credentials for ICN Victoria industry network
industry immersion experiences for VU students through placements and research
graduate pathways and connection to ICN Victoria's extensive industry network.
The ICN Victoria partnership is the latest example of VU's Partnering with Principle commitment found in its Strategic Plan 2022-2028, Start well, finish brilliantly.