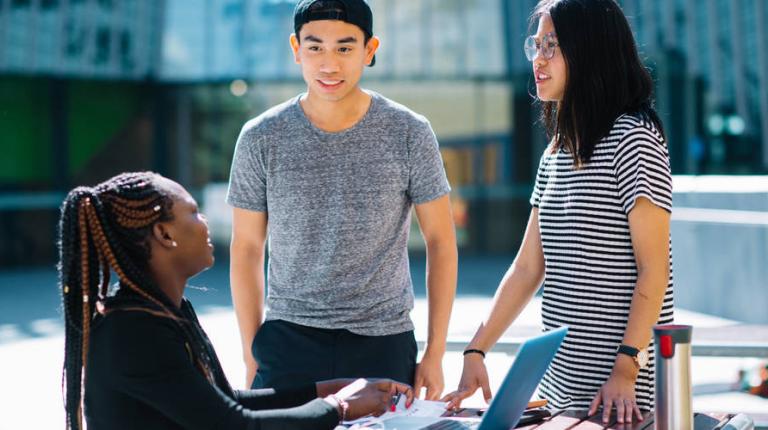 Victoria University's digital learning innovation, which powers the revolutionary Block Model and energises workforce training for industry clients, has been internationally recognised for excellence with seven top honours at the 2019 LearnX Live Awards.
VU, and VU's TAFE division Victoria University Polytechnic, received six peak Platinum and one Gold Award for eLearning projects. The awards reflect its engaging, collaborative education and training for VU students, VU staff and industry clients.
Winning app supports VU Block Model
VU has recently overhauled its learning environments to support its Australian-first Block Model of single-unit intensive course delivery. The model will be rolled out across all levels and areas of the university by 2022 as part of VU's 'New Way To Do Uni'. 
The Block Model is supported by the newly launched Victoria University App – a handy portal way for students to access all essential digital systems on their mobiles, including timetables, campus maps, course content, grades and more. The talented design team (which includes students) was recognised through a LearnX award for the project's significant impact on empowering students and staff.
Bystander Awareness resource recognised
VU's Respect and Responsibility program, along with VU's Student Union, received a $50,000 grant from the Victorian State Government to develop an online bystander awareness and action resource.
As a result, VU developed the Bystander Awareness and Action e-learning resource, co-designed with a diverse group of VU students. The resource covers a range of issues – including the appropriate response to a sexist joke. It also shares awareness about programs that promote gender equality, and the shared goal to stop violence against women.
The innovative e-learning resource received two awards:
Best Bespoke/Custom Model – Gold award for being the most 'promising to emerge in a tertiary education context'
Best Shift it Online Design – Platinum award. 
The Bystander module attracted the attention of VicHealth and social researchers at The Behavioural Insights Team, who were undertaking funded research on the effectiveness of bystander action against sexism. Victoria University was one of only two universities across Australia selected to take part in their recently completed randomised control trial.
VU Polytechnic continues award-winning model
VU Polytechnic has offered an award-winning blended learning model for several years that replaces paper-based learning with flexible and user-friendly eLearning. In 2017, VU Polytechnic received a Platinum and Silver LearnX Award for its Project 100, an organisation-wide program to transform 100 vocational education qualifications into high-quality, technology-rich modular programs for students, and training for 600 staff.
VU Polytechnic General Manager Learning & Innovation Gail Bray said the strong international recognition of VU's blended learning, connected learning, and industry training programs across VU reflected its strong leadership in learning innovation.
VU and VUP LearnX awards
Best Learning Learning Design Team (Connected Learning) – Platinum (VU)
Best Learning App Design (Connected Learning) – Platinum (VU)
Best Online Model – Platinum  (VU Polytechnic with Healthpro)
Best Talent Partnership ­­– Platinum (VU Polytechnic with Swimming Australia/VU) 
Best Shift it Online Design – Platinum (VU Polytechnic with VicHealth/The Behavioural Insights Team/VU) 
Best New eLearning Adopter Project – Platinum (VU Polytechnic with Swimming Australia/VU)
Best Bespoke/Custom Model – Gold (VUP with VicHealth/The Behavioural Insights Team/VU)