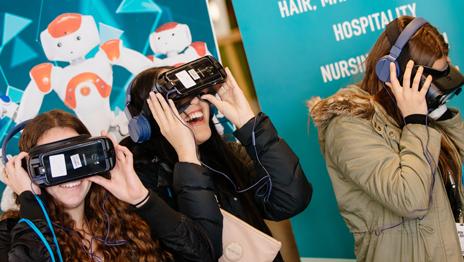 Victoria University's Polytechnic is a finalist in a prestigious international competition for its award-winning blended-learning model that uses a combination of technology and face-to-face teaching to inspire and empower students.
The UK-based Learning and Performance Institute has shortlisted VU Polytechnic for the Internal Learning Solution of the Year award. The award honours a training team for developing an innovative learning model that produces significant performance improvements for the organisation.
Other finalists in the category are Hugo Boss, Bayer US, Aviva, Capgemini and Slovenska Sporitelna.
Since the team launched 'Project 100' in 2015, Victoria Polytechnic has redeveloped 100 vocational education qualifications so students can acquire skills and prepare for the workforce in engaging, innovative ways. This includes virtual reality experiences, video tutorials, and online assessments. 
More than 600 staff were involved in developing or rolling out the new teaching and learning modules across all areas. Courses in Aged Care, Disability and Community Health were piloted first.
Vice-President, Vocational Education and Executive Director Grant Dreher said the Polytechnic was "enormously proud to be named as a finalist for transforming education via the use of high-quality training programs, enabled by technology that focuses on skills development and preparing students for the workforce."  
Learning and Innovation General Manager Gail Bray, who leads the team, said the project is an "education disruptor" that has been critical to the Polytechnic's success following the significant impact Government reforms of 2012 had on TAFE institutes in Victoria.
"Project 100 is a true story of transformational change in the midst of adversity that triumphed over multiple challenges," she said.
The team previously won the peak Platinum prize at the 2017 LearnX Impact Awards for Best Blended Learning Model, and the Silver award for Best Interactive Scenario Design. It also won a National Excellence Award in 2017 from the Australian Institute of Training and Development, and a VU Vice-Chancellor's award for learning excellence in 2016.
The 2019 Learning and Performance Institute Awards will be announced in London next February. 
---
Note: As of 2021, the blended learning model is now known as the interactive e-learning model.