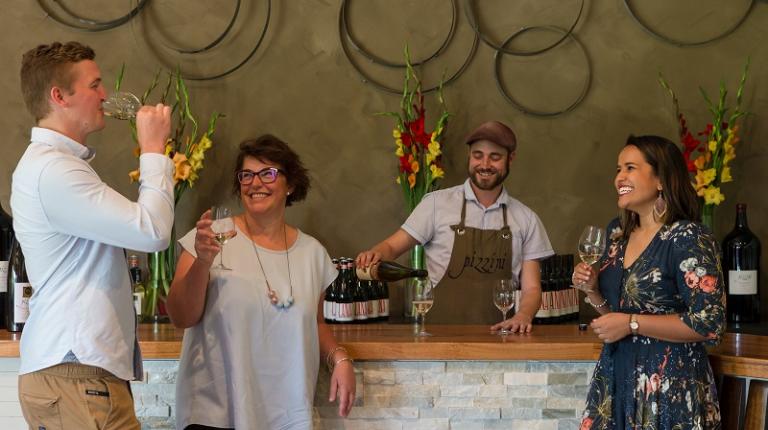 A new report investigating the double impact of bushfires followed by the pandemic on Victoria's tourism sector paints a challenging future.
The crises wiped $19.5 billion in visitor spending from the Victorian economy in 2020. The Victoria University and Victoria Tourism Industry Council (VTIC) report found, of those businesses surveyed*:
two-thirds lost between 75% and 100% of their income
business insurance has risen by up to 400% in bushfire-affected areas, making it unaffordable for many
almost half of owners were struggling with their mental health, and had limited access to or were reluctant to seek help from health services
almost half of casual staff were permanently made redundant, with many finding more secure employment, exacerbating the seasonal skills shortage in the regional tourism sector as it tries to recover
only 30% feel confident of recruiting an adequately skilled workforce in the next 12 months
15% were directly affected by the bushfires; however, two-thirds say their income was affected and 89% were receiving Government support.
Lead researcher Dr Joanne Pyke, Director of the School for the Visitor Economy at Victoria University, said many of those hit by the double crises were struggling.
"The industry is depleted emotionally, financially and physically," she said. "At the same time, they need to quickly rebuild their businesses, often without the finances, support and workforce that they need to do so."
Victoria Tourism Industry Council CEO Felicia Mariani said Victoria must lead the way in implementing strategies to address current vulnerabilities in the tourism system and increase resilience to future crises.
"Our sector is not just scrambling to recover from the double crises of the past year; we're also looking to build resilience and plan for a next inevitable crisis," Ms Mariani said. "The sector had already been facing a challenge in attracting enough skilled seasonal workers and COVID has amplified that problem by cutting off our overseas supply of backpackers, students and other workers. This shortage of staff resource is definitely hampering the sector's ability and pace to recover."
Dr Pyke said governments needed to implement targeted strategies to support industry in recovery, as many measures had not been helpful in the Victorian context.
"Funding cheap airfares to take tourists to other states has had a negative impact on tourism recovery in Victoria, which relies heavily on people travelling within the state to fill the overseas tourist shortfall," she said. "But possibly one of the most significant issues is the dramatic increase in business insurance cost in bushfire areas. Businesses can't plan for the next crisis or build resilience if they are not assured of the ability to be able fund their recovery after a disaster."
The report did show that those who had accessed training in risk management, leadership, contingency and continuity planning as part of VTIC's accreditation process, were fairing much better and were more likely to feel prepared for the next crisis. Those who had experienced previous disasters, such as bushfires, were also more likely to have risk management plans in place and be in a better position to recover.
The Building the Resilience of Tourism Destinations to Disasters report highlights the need for state and federal Government policy interventions to:
help address the seasonal labour shortage and barriers to attracting more workers, such as the high cost of  accommodation in tourist locations
ensure businesses can access affordable insurance to allow them to rebuild after bushfires, flood, drought and other natural disasters
transition to a low-carbon economy to attempt to reduce the frequency and severity of natural disasters
provide appropriate mental health services in regional communities that meet the needs of a business community and remove barriers to access
encourage businesses to take up accredited training in risk management, leadership, contingency and continuity planning
support operators to innovate and develop skills in online business and marketing to allow more businesses to continue operating during a crisis
engage cross-border communities to ensure workable solutions if future lockdowns are needed.
The research revealed many stories of both innovation and resilience as well as the impacts of the crises. For example, Pizzini Wines had a long history of innovation and resilience planning. The family-run business began selling wines online in 2004 and were well positioned to ramp up their online marketing during the COVID crisis. But their innovation didn't end there.
"Fires shut the King Valley to tourists for five weeks during the January peak season and then just as we were reopening COVID hit. We knew we had to move quickly," Natalie Pizzini said.
With the winery cellar door and cooking school shut along with their second business of a hotel in the town of Whitfield, the team took their hands-on gnocchi cooking classes online.
"We sent out packages with the ingredients and matching wines and then everyone could join in via Zoom to take the class," she said. "It became a way for friends and family isolated in lockdown to connect and do something together. It was really special for our customers and vital income for us during COVID."
The cooking classes and online marketing helped keep the Pizzini above water. But as the pandemic hit, they began stocking canned sparkling wine to Coles, which helped deliver a profit by the end of 2020. The family now face challenges with wine supply due to grapes having smoke taint; attracting workers; and building resilience for the next crisis.
"It is not a matter of if, but when," Ms Pizzini said. "We are working to build greater resilience, particularly against bushfires, for not only our business but the region as a whole."
Bright Brewery opened a production brewery three years ago in a bid to build resilience by having a revenue source that was independent of tourism for when bushfires would inevitably hit. But owner Scott Brandon said the production facility was still in the growth phase and largely funded by income from the micro-brewery restaurant.
"The fires, followed by COVID resulted in us losing 80% of our income for the period," Mr Brandon said. "But JobKeeper allowed us to keep most of our staff."
Over the past six months, record numbers of tourists have visited Bright, but Mr Brandon said he had struggled to fully staff his business.
"At times we have needed to close half our venue due to not being able to find enough staff," Mr Brandon said. "We have tourists lining up and we desperately need to make up our lost income. But a shortage of overseas working-holiday visitors; hospitality workers shifting to more secure jobs outside the sector; and a lack of affordable accommodation, are all contributing to the difficulty in attracting staff."
He said affordable housing is a big issue in Bright. "Many people have sought a tree change from Melbourne choosing to either move here or buy a holiday house and there is little affordable housing now. Several potential staff have accepted jobs only to pull out after being unable to find affordable accommodation."
*Survey involved 323 Victorian tourism operators.
Authors
Dr Gabrielle Lindsay-Smith