Victoria University partners with robotics education company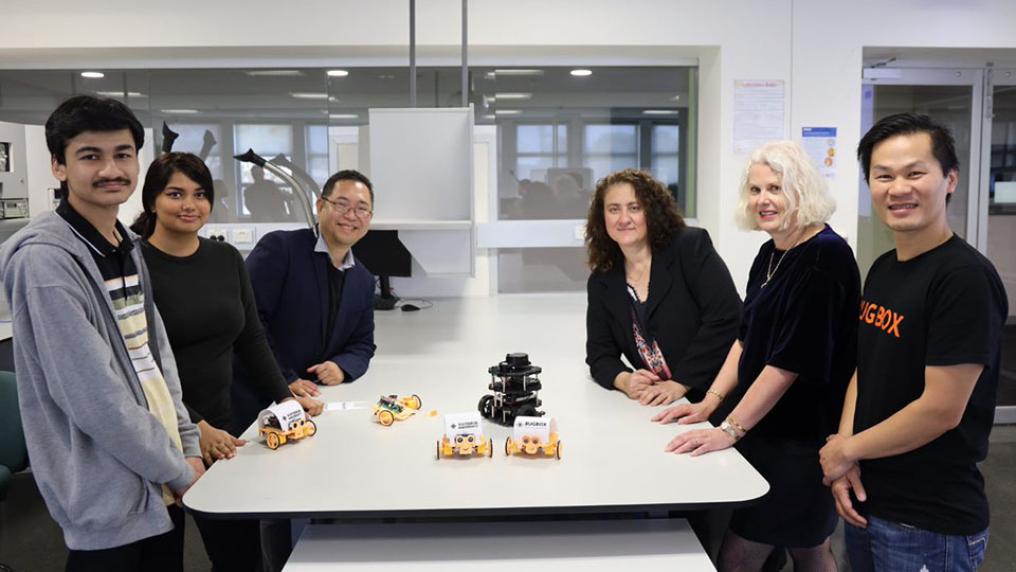 VU is partnering with Bugbox, a start-up robotics company based in Melbourne's west.
Wednesday 26 April 2023
Victoria University (VU) is partnering with an innovative robotics company to provide real-life projects for engineering students with companies that face technology gaps in their businesses.
VU has signed a five-year Memorandum of Understanding (MOU) to collaborate with Bugbox, recently launched by aeronautical engineer Dylan Nguyen.
The partnership will provide opportunities for VU Electrical and Electronic Engineering students to work on final-year capstone projects, which give students real-world problems to solve to hone their professional knowledge and skills.
This initiative was started when Professor Vasso Apostolopoulos was Pro Vice Chancellor of Research Partnerships.
Head of VU Electrical and Electronic Engineering, Associate Professor Daniel Lai, said this opportunity allows students to be meaningfully engaged in the field of robotics and artificial intelligence.
"These fields are now increasingly in demand in almost all industry sectors, from advanced manufacturing to health and sports" Associate Professor Lai said.
"We aim to expand our engineering student experience by collaborating with industry clients who have real industry problems, allowing our students to drive innovation in science and technology as they emerge as the next generation of engineers."
Already, two VU final-year engineering students are working on projects with Bugbox.
Rashini Thathsarani is helping to advance the functions of one of Bugbox's existing robots – Benny – who is equipped with sensors and robotic vision. Benny is used in STEM (Science, Technology, Engineering and Mathematics) outreach programs in primary schools, another key part of Bugbox operations.
A second student, Rishik Tiwari, is helping to develop a robot prototype dubbed 'Project Crawley' for a plumbing business, which will help with pipe and sewer inspections.   
Bugbox founder, Mr Nguyen said he was thrilled to collaborate with the exceptional students at VU in the pursuit of pioneering new domestic robotics capabilities.
"Together, we will rise to the challenge and drive innovation that will ultimately contribute to the growth and prosperity of our nation's economy," he said.
Other future opportunities may include VU Masters or PhD students in Engineering or Business undertaking more advanced projects with Bugbox.
In addition, while Bugbox is now based at SPARK, the city of Wyndham's innovation hub, the organisation is exploring opportunities to set up on a VU campus as part of the University's 'flipped campus' model, which aims to bring valued industry partners on-site.