Victoria University now a sponsor of the Afghan Women's Team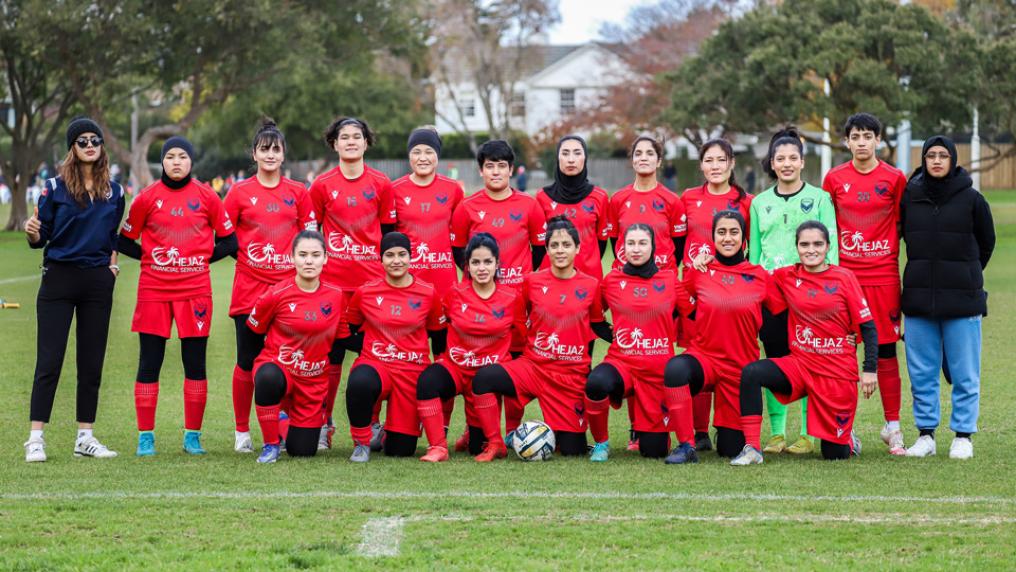 Victoria University (VU) is now a proud sponsor of the Afghan Women's Team (AWT) for the 2023 season.
Friday 28 April 2023
The Afghan Women's Team was originally formed in 2007 by the Afghanistan National Olympic Committee, with female athletes chosen from schools in Kabul.  
When the Taliban took control of Afghanistan in August 2021, most of the players and coaches were forced into hiding until it was safe to flee their homeland.  
Many settled in Australia and with the support and encouragement of Melbourne Victory, the Afghan Women's Team now actively uses the sport as a platform to raise awareness about women's rights and to advocate for their families and friends who remain in Afghanistan.  
Melbourne Victory Director of Football, John Didulica outlined Victory's role in supporting the side in finding their feet in Australia and getting back to the game they love.
"It's always an honour to support courageous young women like the Afghan Women's Football Team. Football plays such an important role as a social connector and being at a club like Victory presents great opportunities, and also a responsibility to support members of our community who may be in need." 
"It's been a privilege to see the players improve their football over the past 12 months but more importantly to see them start developing their lives here in Melbourne, through study and work and new relationships. I have no doubt that with the support of Victory and institutions like Victoria University, they will continue to go from strength to strength," he said. 
Now competing in their second season in Australia, players will have the opportunity to proudly display VU branding on both sleeves. 
Mid-fielder player Oranos Haidary has been with the team for over twelve months and is currently studying English at VU's Sunshine Campus. Before leaving Afghanistan, the player studied computer science at Allama University in Kabul.  
The semi-elite athlete can't remember a time when she didn't love soccer and she has her older siblings to thank.
"Both my brother Aziz and sister Yasmine started to play when they were at school, and I really wanted to play, too." 
But life under the Taliban became difficult and dangerous for Oranos; the Taliban closely monitored the football players and in September 2021, the hostile regime forbade women and girls from playing sports. 
While football remains her number one passion, Oranos is hoping to fit in a part-time job between study, training and matches.
"I want to help support my family back in Afghanistan, so I'm busy looking for work. I'm also practicing my English, so I hope that helps." 
Being involved in AWT is a huge part of the young players' life.
Soccer is the most popular sport – the whole world loves it. I love it. When I play, I feel happy, and I feel kindness – all the girls I play with support each other. We talk, we joke, and for a while, we forget our problems. We just enjoy the moment.
The Afghan Women's Team play Melbourne University Soccer Club at Rob Barrasi Senior Reserve 1 on Sunday 30 April, 2023.