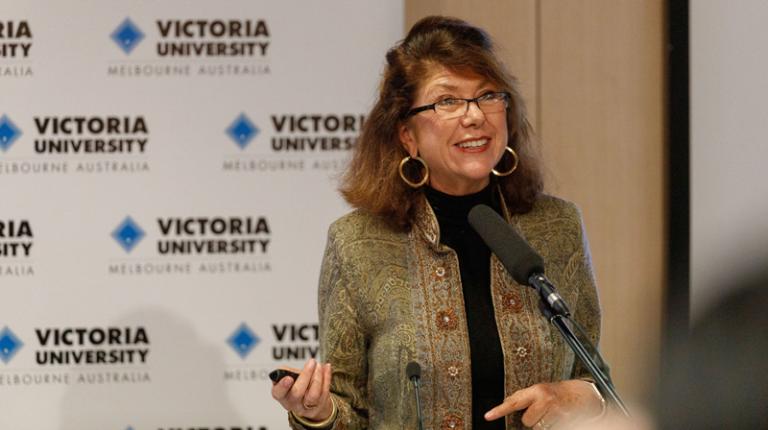 An internationally renowned tourism expert says the industry must no longer measure success by profit and growth, but instead, by values such as generosity and contributions to the local community.
Professor Pauline Sheldon from the University of Hawai'i, was guest speaker at Victoria University's School for the Visitor Economy for a public lecture, Tourism and the New Economics.
"It is clear capitalism is failing in its promise to create healthy economies or healthy destinations. In some places, tourism has reached a breaking point where tourists are no longer welcome," she said.
Dr Sheldon said it was time to for the tourism industry globally to recognise the huge socio-economic gaps it causes, and the realities of climate change that are associated with it.
Tourists seeking to travel simply to consume resources from local communities may soon be regarded as the 'new smokers' where 'lying on a beach with a mai-tai' is shunned," she said.
Destinations such as Amsterdam and Venice that are experiencing over-tourism are now reflecting about whether business as usual can continue.
Dr Sheldon pointed to the example of the unspoiled Faroe Islands off the coast of Denmark shutting its doors to tourists for a short time unless they wanted to volunteer to work on environmental projects with locals.
Sectors such as 'wellness tourism,' or travelling to promote health and wellbeing, is expanding at twice the rate of general tourism, especially in Asia, reflecting peoples' desire to have more balanced and meaningful visits, she said.
Preparing for a career in tourism
Dr Sheldon has worked extensively at the international level with organisations such as the United Nations, the World Tourism Organisation, APEC International Centre for Sustainable Tourism and the World Bank.
She is the first and only female President of the International Academy for the Study of Tourism, and also co-founded the Tourism Education Futures Initiative (TEFI). 
Dr Sheldon said students preparing for a career in tourism face a future where they must adopt new decision-making perspectives to guide the industry more holistically.
"We need to prepare our students not only for jobs that currently do not exist, but for any eventuality as the uncertain future evolves.
It was decided at our first TEFI meeting, that grounding students in human values would be the best preparation."
VU's School for the Visitor Economy is a cross-university school providing the hospitality and tourism industries with qualified professionals. It delivers industry-based programs across all qualification levels, from pre-vocational certificates to PhDs.
In the 2019 academic subject rankings published in the Academic Ranking of World Universities, VU's Hospitality and Tourism Management improved its standing to 37 in the world in 2019 from 46 in 2018.