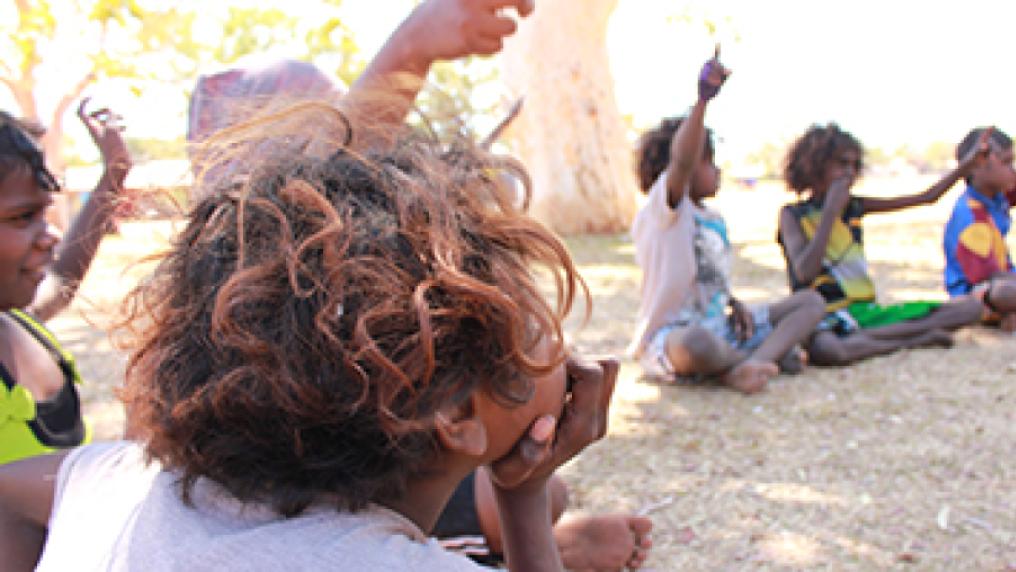 A program that places VU teachers-in-training in outback schools needs laptops to help Indigenous children.
Wednesday 29 June 2016
An award-winning program that places Victoria University teachers-in-training in outback schools is seeking donations of laptops to help Indigenous children tell their own stories.
Now in its 21st year, the Story Writing in Remote Locations (SWiRL) program selects up to 20 Bachelor of Education and Master of Teaching students a year for a placement in remote Indigenous communities.
It was created by VU's soon-to-retire lecturer Lawry Mahon, after he saw Aboriginal students reading culturally irrelevant books during a 1996 visit to the Northern Territory.
"It wasn't rocket science to see there was a problem," he says. "The books those children were using were no different than the ones my own kids were reading in Ascot Vale, Melbourne."
The VU students help local children document and publish books from their own experiences and cultures. The children keep a copy of their book, and a copy is put in the school library. The children are also encouraged to use their local languages, with parents or elders assisting as translators.
With the availability of new technologies, the children are now as likely to create an electronic book with moving graphics, video, and sound as they are a handwritten and painted one.
Lawry is looking for donations to be used for the next SWiRL placement at the end of August, when ten Master of Teaching students head to Pine Creek School, two hours south of Darwin.
One of the unexpected outcomes of SWiRL over the years is that many participants go back as Northern Territory teachers once they graduate.
While most teachers in remote NT schools stay less than a year, SWiRL-trained teachers stay an average of two years – a significant advantage in building relationships and gaining the support and confidence of the community.
VU graduate Sarah Mullucks, a five-year-veteran of a school near Katherine and a previous SWiRLER, was named a Northern Territory teacher-of-the-year in 2015.
SWiRL expanded this year to India with Federal Government funding, and assisted by the University's centenary committee, to mark VU's 100th anniversary as an educational institute. As part of that project, VU is currently collecting 100 kilograms of books to donate to a 2500-student school, located in Visakhapatnam, on the Bay of Bengal, visited by the SWiRL team in February. 
Hundreds of VU students now call themselves SWiRLERS, and for all, it's been a life-changing experience.
Although Lawry retires from VU in October after 30 years, he plans to remain connected to the University, and SWiRL.
How to donate
For donations of useable laptops, contact Lawry Mahon on 0419 375 178 or email [email protected].