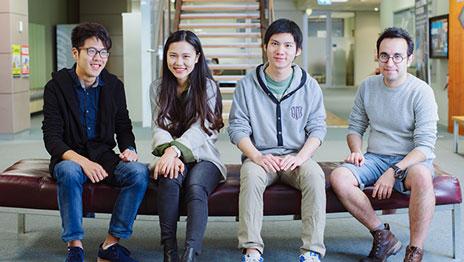 The diversity, scale and success of Victoria University's (VU's) longstanding education partnerships with China will be showcased at a sell-out workshop today (Monday, 29 February), as part of the Asia-Pacific Association for International Education (APAIE) Annual Conference.
Presented by the Victorian International Universities Forum in collaboration with VU, RMIT and Swinburne University of Technology, the workshop will explore the strategic drivers for successful transnational education (TNE), while showcasing the state's international excellence in cross-border education.
The workshop is one of several events VU will take part in during the 11th annual APAIE conference, which is being held from 29 February to 3 March at the Melbourne Convention and Exhibition Centre.
Hosted by nine Melbourne universities – including VU – the event will bring together leading policymakers and education experts from around the world to explore new models for research engagement and education mobility in the 2020s, which is the theme of this year's conference.
The TNE workshop, entitled: The world is your classroom: Developing and managing successful TNE programs, will present three models of TNE delivery; international branch campuses through RMIT Vietnam, partnerships through VU's China programs, and pathways through Swinburne University's Collaborative Articulation Program.
VU TNE Development Director Rhys Williams, who is co-presenting the workshop, said VU's partnerships with China, Malaysia, Vietnam and Singapore, some of which date back more than 20 years, are leading examples of successful TNE models, underpinning VU's reputation as an international university.
Mr Williams said TNE partnerships cultivate international diversity, generate commercial benefit and increase universities' global brand footprints.
"The benefit to the student and parent is the ability to obtain an Australian university qualification in their home country, to the equivalent of studying in Australia," Mr Williams said.
"The value for the international partner is the ability to deliver a foreign education qualification in English, and to significantly advance their international agenda," he said.
"The benefit to the university is threefold – it increases brand footprint, maximises commercial benefit through additional students onshore and the transfer of students offshore, and it aligns with their international agenda."
With the increasing affordability of airfares, and a surge in student travel, Mr Williams said there is "huge demand" for international education, intensified by the demand for a global workforce.
"Employers today want students with global skills – any university that isn't internationally engaged, at least on the curriculum front, isn't providing employers with what they want or need," he said.
VU Vice-President International, Steve Berridge, said VU's internationalisation of students, staff, curriculum, and teaching and research partnerships has been highly successful over the past 15 years.
"Whilst our history and home is in Melbourne, VU has a global focus," Mr Berridge said.
"As well as attracting more than 15,000 international students from 90 countries each year, VU has teaching and research partnerships around the world, and especially in China, where we deliver our courses to more than 5,000 students each year through longstanding partnerships," Mr Berridge said.
"Deepening our engagement with key international partners, particularly in Asia, remains an ongoing high priority in 2016 and beyond."