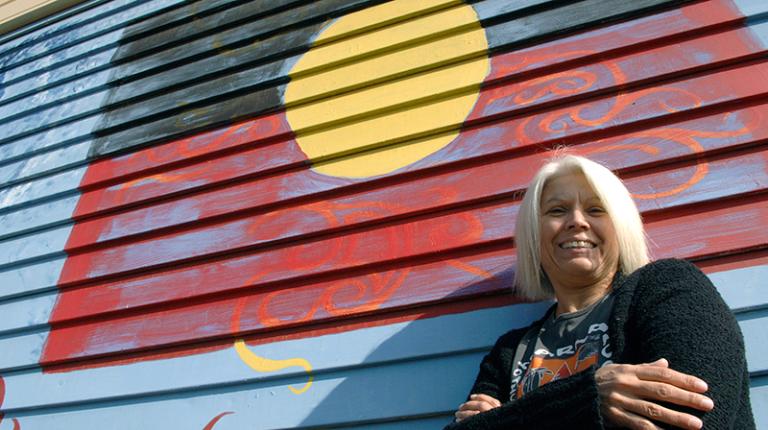 Current events around the world have brought systemic racism into the spotlight. In response, Victoria University's Vice Chancellor expressed solidarity with Aboriginal and Torres Strait Islander people, and the University's desire for all students to feel safe in engaging in university spaces.
Karen Jackson, director of the Moondani Balluk Academic Unit – which works across Aboriginal, non-governmental organisation and community spaces to deliver teaching, research and support – provides her view of recent events, and the long, difficult road facing Aboriginal people in Australia.
Karen Jackson, Director of Moondani Balluk
"I recently named myself as the Acknowledgement of Country Queen at VU. While I seemingly laughed off this suggestion, it has obviously come to be noticed by me that in this time of Black Lives Matter #BLM people feel it important to ensure a black person is up front to Acknowledge Country. I get why this is so. I think. 

"But perhaps the making of space for black people in this way also hinders the enabling of space for white people to think more deeply on what an Acknowledge of Country means – to them – to what they know or don't about Traditional Owners. About what it means for them to find words that are meaningful to themselves that they are willing to share. Also words that they feel won't upset us black fellas?

"And yet, being asked to begin sessions at VU staff meetings gives me a platform to remind VU staff that we're still here. This is Aboriginal land that is unceded and sovereign territory. A land on which the Ancestors footprints are in the landscape and Traditional Owner knowledge is embedded in the black bodies who are a part of Moondani Balluk and the VU community. 

"In a recent statement Moondani Balluk made to our colleagues at VU to help start conversations around this topic, there was a paragraph that referred to the 'cultural load' carried by Aboriginal academics teaching Aboriginal higher education units. 

"These staff put themselves into these risky situations every single time they teach. There is normally always one student who questions Aboriginal knowledge and perspectives. And then proceeds to advise that they went to school with an "aborigine"; or their family lived next door to some Aboriginal people; or they grew up overseas where this and that happens.

"I know of a few other VU academics who are hit with such racism and ignorance – for example, those who teach on the Holocaust in European History. But I don't believe it's an ongoing weekly experience that then accompanies them into their personal lives outside of work. Every single Aboriginal staff member of VU will have a story on the times that they made a very conscious decision to 'hold their tongue' in such circumstances. Or where they have been racially vilified in their personal lives. Where they felt fear.

"Perhaps unknown for non-Aboriginal academic staff is the depth of time and thought Aboriginal staff engage in to embed cultural safety strategies for themselves in their classrooms, knowing that the teaching and sharing of critical race theory, Aboriginal standpoints and perspectives has a daily toll on health and wellbeing when they are placed in a combative and personal mode of education.

"Such oppression in our lives always impacts our bodies and spirits. This is long term impact. 

"And this is what the 'cultural load' is referring to – the sheer negligence of the acts of violence and historical oppression as a direct result of systemic racism.

"However, we are resilient, adaptable and survivors. Because we have to be. Otherwise we would not be here. Literally.

"We speak out so that our anger and rage at our treatment, our families and communities' treatment, our Elders and Ancestors treatment can be heard, seen, and felt by white people, and let go our anger and rage from our black bodies.

"The challenge now is for how VU colleagues will show up, be counted, speak back against acts of violence on black bodies and educate themselves and then take action themselves against systemic and societal racism. The challenge is who is willing to maintain the very hard conversations on racism, to share their learnings with family and other VU colleagues, to disrupt agendas and the racial status quo.  

"Who is willing to grow and educate yourself and share that with your Moondani Balluk/VU colleagues?"
If you're not sure where to get started in your learning here are some useful resources: