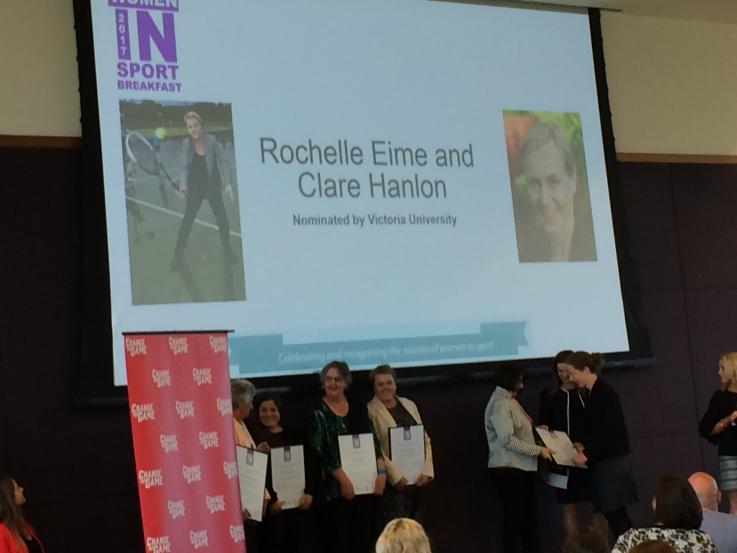 Two Victoria University academics and researchers who have made significant contributions to increasing female participation in sport were honoured today at the 2017 Women in Sport Breakfast.
Associate Professors Clare Hanlon and Rochelle Eime are each strong promoters of women in sport.
Associate Professor Clare Hanlon
For more than 25 years, Clare has been influential in her pursuit of creating more opportunities for girls and women as leaders and participants in sport. She has presented at more than 80 conferences, workshops, symposiums, and assessment panels to over 8,000 people around the world.
Her recent roles include:
advisor, Victorian Change Our Game Champions
keynote speaker, International Association of Physical Education and Sport for Girls and Women World Congress
co-initiator of projects in South East Asian regions on women's needs in physical activity and leadership programs to build capacity of sport organisations and empower women
one of four 'Change our Game' female role models recognised by the Victorian State Government Minister for Sport
Director, Gymnastics Australia.
Her contributions in Victoria include:
Victorian Ministerial Inquiry for Women and Girls in Sport and Active Recreation: Clare's research helped shape recommendations of the Inquiry (on which she was a member), paving the way for $6.2 million in funding, policies and strategies to encourage more females in sport.
Victorian Government Female Friendly Sport Infrastructure Guide: Clare's insights as an advisor were key to the scope and content of this guide, which has now become the criteria for state and local sport associations applying for funding.
Local government policy evaluation to encourage more women in sport: Clare helped identify opportunities for local government strategies, policies, and programs to build sport-club capacity and increase women as participants and leaders in sport.  
Associate Professor Rochelle Eime
Rochelle is Director of Sport and Recreation Spatial, the largest repository of sport-participation data in Australia, with more than one million participant records in Victoria across its 12 major sports. This unique dataset and subsequent research is invaluable in supporting organisations and government authorities to make decisions in the sport and recreation sector. 
Rochelle's research recognises and provides evidence about lower rates of participation of women and fewer female infrastructure developments compared to male rates and infrastructure. It has been widely cited in the media and published in peer-reviewed papers and industry reports, and has received the following recent awards:
2017 Parks and Leisure Australia (Vic/Tas) winner
2016 Victorian Sport Awards winner
2016 Victoria University Vice-Chancellor's award for excellence
2015 VicHealth Awards finalist.
Over the past year, Rochelle has shared her research with:
Sport and Recreation Victoria
ASC National Sports Plan
Tennis South Australia
Victoria University Sport Dinner.