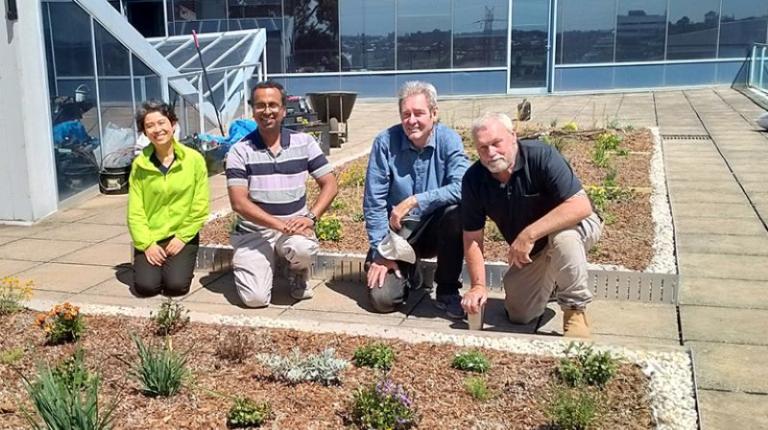 Victoria University has a new "living lab" garden on the roof of Building M at Footscray Park Campus to highlight its commitment to planetary health.
The 50-square-metre garden, completed over about eight months in 2020, features native plants and a wetland, and is designed to mitigate the effects of climate change.
It will primarily be used by students and staff for research and teaching, to improve understanding of the environmental, social and economic value of green infrastructure.
The project was led by Dr Nitin Muttil, Dr Anne Ng and Dr Hing-Wah Chau from VU's College of Engineering and Science, and supported by Ravinesh Lal from VU's Facilities Department.
Partnering with Infinite Landscape, the team transformed the rooftop into a highly functional, lush and inviting garden, featuring native plants such as Everlasting Daisy, Bulbine Lily, Running Postman and Emu Bush.
"Universities have an opportunity to show the broader community how the built environment can be designed to benefit both the environment and its occupants," said Dr Muttil.
"While green roofs are great for the environment, they also provide benefits towards the well-being of staff and students who interact with the space."
Dr Muttil said green roofs can also reduce the urban heat-island effect by providing natural cooling from the plants and evaporation from the wetland.
Other benefits include providing new habitat for birds, bees and other pollinators, improving the water quality of roof run-off, and reducing occurrences of flash-flooding by absorbing rain that would otherwise flow into stormwater drains.
The green roof is made up of various layers, including a drainage layer, a geofabric-based filter layer, and a growing medium that supports the groundcover native plants.
The site also includes a time-lapse camera to capture changes over time, and a weather station to record climate data.
Over the coming months, the green roof will become more vibrant as the plants take root, bloom and expand, and as bees, butterflies and birds are attracted to the new habitat, said Dr Muttil.
Watch a video about the green roof (no captions or transcript available), or view a time-lapse video (audio is background music only) of its construction, created by Stuart Clegg of VU's Video Hive team.