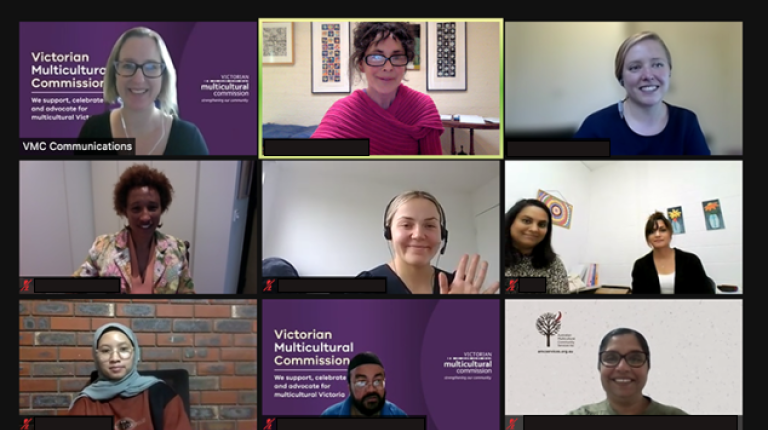 The Sir Zelman Cowen Centre in partnership with the Centre for Multicultural Program Evaluation (CMPE) and Tasneem Chopra OAM have co-designed and delivered two streams of the Victorian Multicultural Commission's Multicultural Communities Leadership in Action Program 2022.
With multicultural and multifaith community leaders playing an increasingly vital role, as demonstrated during COVID-19, the Multicultural Communities Leadership in Action Program 2022 worked to build the capability of established and emerging community leaders to engage effectively with the government and their own communities.
Participants received practical hands-on training to effectively engage government, mobilise their communities and ensure community voice is centred in government engagement.
The program provided dedicated streams for women and young people, as well as a generalist stream.
More than 400 participants completed the training in June this year. The program was taught by diverse and experienced facilitators who are also members of their communities.
Development of the training materials builds on the Centre's work in the design and delivery of civics, leadership, governance and capacity‑building programs for Culturally, Religiously and Linguistically Diverse (CRALD), refugee, newly arrived and hard-to-reach communities. By partnering with cultural competency, diversity and inclusion expert Tasneem Chopra and culturally responsive and collaborative evaluation experts CMPE, the team delivered an exceptional series of training sessions.
"I received feedback ranging from 'I'd never thought about this topic as a leader but it's so useful!' to 'Where has this program been all my life?'", says Tasneem Chopra.
"What this program is doing, is making safe spaces for learning and supporting communities," says facilitator and founder of Cultural Synergies, Tom Verghese.
Wesa Chau, CEO of Cultural Intelligence believes that "we could see more partnerships between organisations in the future as a result of the program. Many participants talked about how they enjoyed learning from each other and found it immensely useful to build networks with other participants."