Free virtual exercise & rehabilitation clinic helps elderly clients during lockdown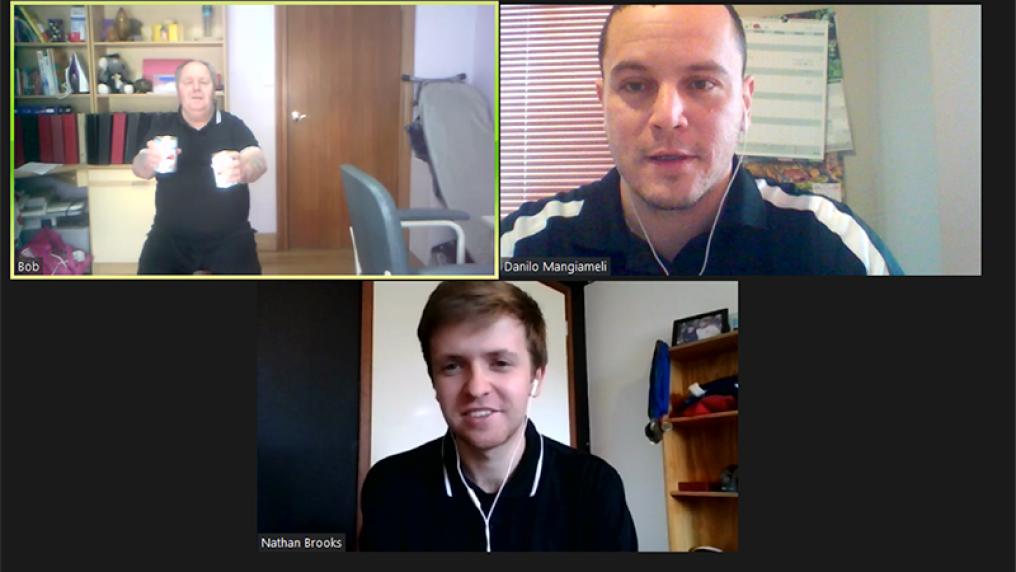 Victoria University's Clinical Exercise & Rehabilitation (VUCER) Clinic is offering a free Telehealth service through Zoom and discovering incredible results.
Thursday 20 August 2020
When Melbourne went into its initial lockdown in March, Victoria University's Clinical Exercise & Rehabilitation (VUCER) Clinic had to close its doors. Now through a free telehealth service, VU is reaching out through Zoom and discovering incredible results.
The closure had impacted both students' work placements and elderly clients who relied on clinical support, so the new service has been warmly welcomed.
Home exercise increases compliance
"It turns out when clients are in the comfort of their own home, it increases their compliance to exercise," says VUCER clinic manager Danilo Mangiameli. 
He said when the clinic was open, clients would sometimes cancel sessions due to personal difficulties reaching the Footscray Park Campus clinic. 
But through the online version of this VU service that Danilo has developed, he and his team of students have seen improvements in compliance and interaction, with clients sticking to programs and sometimes booking in extra sessions.
Mental & physical health addressed
This helped solve a two-fold problem: having students accrue enough clinical hours to graduate, while also making sure those clients that had been coming to VUCER were staying healthy and keeping their clinical issues under control.
"By continuing to service clients via Zoom, it can avoid the worsening of some conditions and also identify if an issue has to be checked by a GP," Danilo says. He adds that it also provides something else just as crucial.
"It's having a great impact on mental health… We can actually assess their mental state, and, if they need any extra support, we can identify that and be in touch with them."
Danilo says they have a few clients that are by themselves at home and that this service is especially beneficial during lockdown circumstances where social interaction can be hard to come by.
Student hours completed online
AMEP postgraduate student Laura Speed says she was initially sceptical about conducting exercise sessions through Zoom, and worried about completing her hours.
"Due to COVID-19, both our external and internal placements were cancelled and there were students like myself that required over 170 hours to complete to be able to graduate the course in the middle of the year," she says.
Danilo's program changed all that, she says.  
"I was able to provide exercise interventions for more than 12 clients and I was able to consistently see three clients, two or three times per week, where significant physical, mental and lifestyle improvements were able to be made."
Clients appreciate service
VU staff member Dr Natasha Dwyer has been attending the clinic since 2016 and says the continuation of it into an online space is very much appreciated by clients.  
"My attendance at the clinic has improved my ability to work because I have one hour a week of coaching to repair my physical self," she says. "I recommend the clinic constantly to friends and contacts and they are keen to participate."
With 30 clients to cater for, the free virtual program also has tech support and guides available to assist those who might have trouble setting up their Zoom calls.
Running until the end of 2020, some clients have queried Danilo on whether the virtual program will continue in the New Year. They say they are finding it more comfortable to stay at home, especially when reaching the VUCER clinic can sometimes be difficult.
Danilo believes that telehealth and similar applications will become a staple of the industry post-COVID, and that clinics like VUCER might adopt a hybrid approach to providing to their clients, especially those who are elderly and/or have issues that make travel problematic.
Find out more about VU's Clinical Exercise & Rehabilitation services.