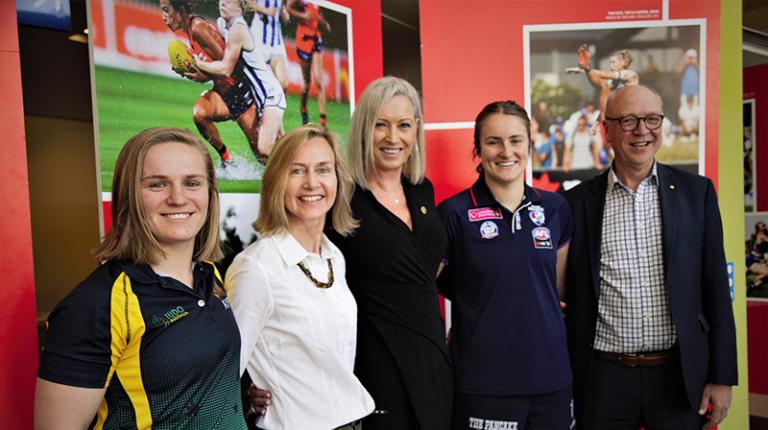 Victoria University is proud to host the Women in Sport Action Awards (WISPAA) photo exhibition, the first ever public exhibition devoted to action photographs of Australia's female athletes.
The exhibition was launched in Melbourne earlier this year and will be on display until the end of the month before continuing on its State-wide tour.
Western Bulldogs key defender, Ellyse Gamble, said the exhibition was a big moment for women's sport. 
"It's the first time I've ever seen females photographed as athletes," the 22-year-old said. 
"When you see the covers of the magazines, men are always photographed in action shots while women are usually just posing.
"But these shots are just phenomenal. They've captured female athletes showing their strength, agility, and ferociousness."
The 30 images highlight female sporting prowess in codes ranging from football to surf lifesaving.
"If I walked in five or six years ago, I wouldn't have seen any pictures of female footballers so it's really special as an AFLW player to see that now," Gamble said.
Australian international Judo competitor, Aoife Coghlan, 24, said the images were a testament to the determination of sportswomen.
"There are some great action shots of girls tackling and hitting it up. You can see they're definitely not afraid to get into it," the Victoria University double-degree student said.
As Victoria's first female lifeguard, Victoria University alumna and Women in Sport Ambassador Carol Fox, said it was important to see sportswomen depicted as athletes.
"The women displayed here are at the peak of their game, and the images capture that moment brilliantly," Ms Fox said.
Susan Alberti Women in Sport Chair, Professor Clare Hanlon, said Victoria University was proud to promote such an exhibition.
"Exhibitions like this are crucial to changing both the media and public perception of women playing sport. The more visible women are playing sport, the more it encourages other girls and women to play. You can be what you can see," Dr Hanlon said.
The WISPAA photo exhibition will be on display at the ground floor of Building P, Victoria University, Footscray Park Campus, until the end of October.