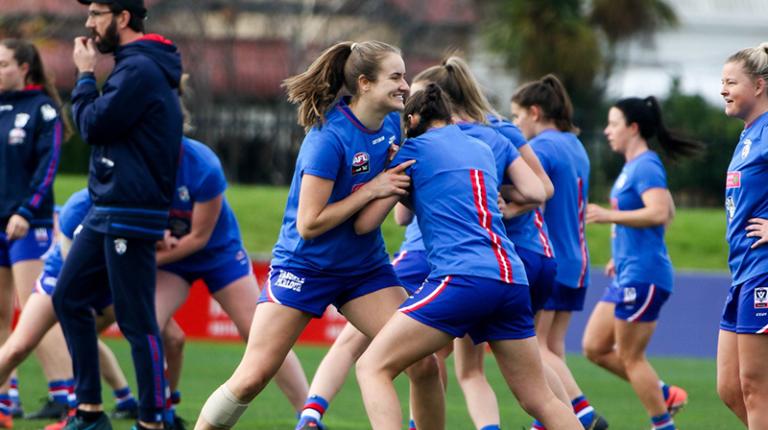 It's finals week for VFLW Western Bulldogs player Ellyse Gamble, and, not surprisingly, the player is hoping for a win against Collingwood at Melbourne's Ikon Park.
It's been a big year for the dedicated back-line player, and while Ellyse only played a few matches in the AFLW 2019 season, she's feeling confident about Sunday's game.
"I'm really enjoying playing a key position in the back line and being able to develop myself in that role as well as remaining versatile."
Mid-way through the VFLW season, the 21 year old made the decision to take a short break and make the most of her uni semester holiday. "I'd always wanted to travel, so I organised with my coaches to take one month off and go to Europe. Juggling study, sport and part-time work is a huge commitment that can often be challenging, so it was nice to have some down time to re-charge the batteries."
"Prior to my trip I was feeling a little burnt-out. I have definitely came back feeling re-energised and ready to tackle the rest of the year with my studies and football. I have also learned how important it is to make sure you allow yourself that time to relax and refresh."
The VU student is currently in her second year of a Bachelor of Education, with two more years to go. "I love what I do, on and off the field, and I always try and give one hundred per cent."
On the recent unveiling of the Tayla Harris statue in Melbourne CBD, Ellyse thinks the gesture is an important moment in AFLW and women's sport in general. "For me, the statue serves as a great reminder that all women and girls deserve the chance to get involved with sport. I hope the statue becomes a catalyst for change for all of us."
The elite athlete says she still can't quite believe she's playing a part in changing women's sport. "I still pinch myself sometimes. I'm very grateful to be in this position and I'm proud to be a role model for little girls in particular who have the dream of playing AFLW one day."
Western Bulldogs vs Collingwood, Ikon Park,11.35am, Sunday 22 September 2019.