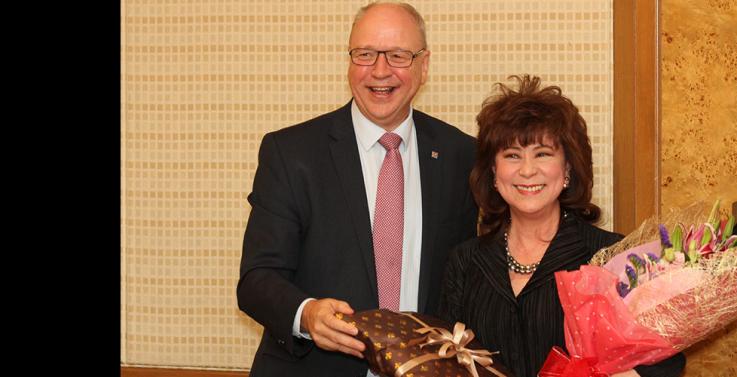 An honorary doctorate was conferred on international education thought leader, Dr Elizabeth Lee, at Victoria University's (VU) largest-ever graduation ceremony in Malaysia on the weekend.
Held on April 3 at Sunway Resort Hotel and Spa, Kuala Lumpur, the ceremony saw 421 students graduate with VU qualifications, with a further 224 students graduating in absentia, from VU's offshore partners; Sunway College Kuala Lumpur and Sunway College, Johor Bahru; the Australian College Kuwait; Liaoning University in China; the University of Economics, Ho Chi Minh; the School of Continuing and Professional Studies at The Chinese University of Hong Kong; Hanoi University in Vietnam; and Lithan Academy in Singapore.
As part of the ceremony, VU Chancellor George Pappas presented the Doctor of the University, honoris causa, to Dr Elizabeth Lee, Senior Executive Director of Sunway Education Group, for her outstanding achievements in the field of international education.
In awarding the degree, Mr Pappas commended Dr Lee's significant contributions to VU through her instrumental role in the development and stewardship of VU's partnership with the Sunway Education Group, as well as her tireless efforts to champion education for women.
"Ms Lee is a thought leader in the field of international education and a great role model," Mr Pappas said.
"She has made a huge contribution to the partnership between Victoria University and the Sunway Education Group," he said.
"It is especially fitting that her honorary degree will be awarded at the largest graduation ceremony ever hosted by Victoria University at Sunway."
The Malaysia graduation is one of four official VU graduation rounds annually, and an important international celebration in VU's milestone year – the centenary of the founding of VU's predecessor, the Footscray Technical School, in February 1916.
As the centrepiece to VU's international centenary events, VU's Malaysia Alumni Chapter held a 100th year anniversary gala dinner in the grand ballroom of Sunway Resort Hotel and Spa on April 2.
The gala dinner was attended by more than 900 special guests, including the Malaysian Deputy Education Minister, YB Dato' Kamalanathan, the Chair of the organising committee and VU alumna, Puan Sri Susan Cheah, the Alumni President of VU, Chua Teck Boon, VU Chancellor, George Pappas, and VU Vice-Chancellor, Professor Peter Dawkins.
VU Transnational Education (TNE) Director Rhys Williams thanked the Malaysian Alumni Chapter for its commitment to the VU-Sunway partnership, established in 1994.
"VU's oldest and preeminent partnership, the VU-Sunway relationship is known throughout Australia and Malaysia for its excellence," Mr Williams said.
"To have one of our official graduation ceremonies in Malaysia at Sunway is a very tangible expression of the importance of the partnership, and VU's engagement in Malaysia," he said.
Reflecting the University's reputation for international engagement, VU has been delivering education in Asia for more than 20 years. Through these valuable partnerships, students have the opportunity to complete VU English language, diploma, bachelor and masters courses at home or abroad.