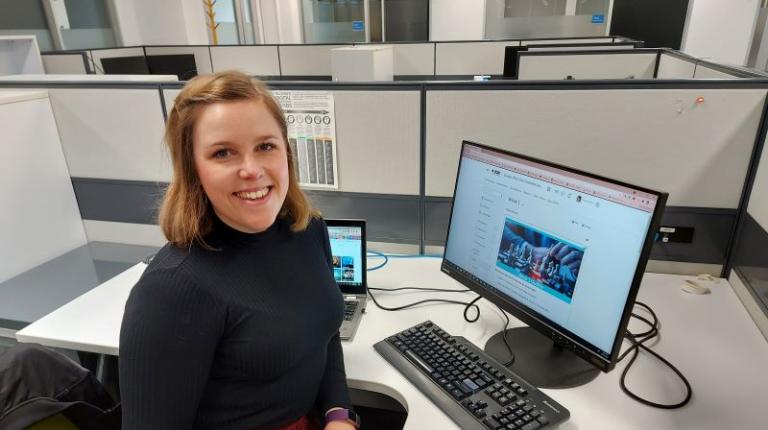 Search any job-seeker website and you'll see that roles for digital learning and instructional designers are among the most in-demand jobs in Australia.
While this emerging profession is not yet very widely known, it is forecast to be worth a whopping US$375 billion by 2026, according to research firm Facts and Figures, as organisations worldwide add increasing interactive digital content into their courses and training.
Victoria University's new Graduate Certificate in Digital Learning and Teaching is meeting the global need for more learning designers.
The course is part of VU's range of postgraduate short courses that are heavily subsidised by the federal government, signalling that the profession's growing importance and booming demand is recognised at the highest levels.
Course chair and senior lecturer Natasha Dwyer says the VU course is aimed at those with an undergraduate degree from many backgrounds who want to reconfigure their future, or teachers seeking to turbo-charge their careers.
"Given how COVID-19 rapidly accelerated the trend for learning outside the classroom, the course offers opportunities for teachers to build new capabilities or to make a career switch into learning design," she says.
Learning designers excel at communicating & listening
Graduates can also get credit toward VU's Master of Digital Media, a degree recently completed by Miriam Gelotte.
Soon after graduating, Miriam landed a learning design job at VU's award-winning Connected Learning team.
"I work directly alongside academics and other subject matter experts to conceptualise, design, then produce and deliver course content that provides the best possible experience for their students," she said.
"VU is among the leading universities for digital learning, and definitely a standout on the map in this area."
Key qualities for an effective learning designer are being good at communicating and listening, and a capacity to build trusting relationships, she says.
"We have up to nine development meetings with teachers to explore ways to meet learning outcomes and assessment tasks with rich and engaging materials, and highly interactive and collaborative activities."
Miriam not only gets opportunities to learn about the breadth of courses across VU, but loves the reward of academics coming back to say that students enjoyed and learned from the content she helped put into those courses.
"At that point, the circle is complete and we know we have done our jobs. The teachers are happy, and the students are learning and having a good experience."
"Ultimately we support both students and teachers to succeed."
Learning & development changed in business sector too
Nick Petch, Head of Learning Innovation at the Sydney-based digital learning specialists, the ID Crowd and a course adviser to VU, says in a world of rapid and potentially seismic change, organisations that do not adjust their approach to learning and development will struggle.
"The past year has shown that organisations that can readily change and adapt are the ones that succeed. Learning designers are in big demand because they are critical to this success."
Apply by 25 July for the next intake for the Graduate Certificate in Digital Learning and Teaching.
The course starts on 2 August.