Chancellor Steve Bracks receives rare award from Timor-Leste Government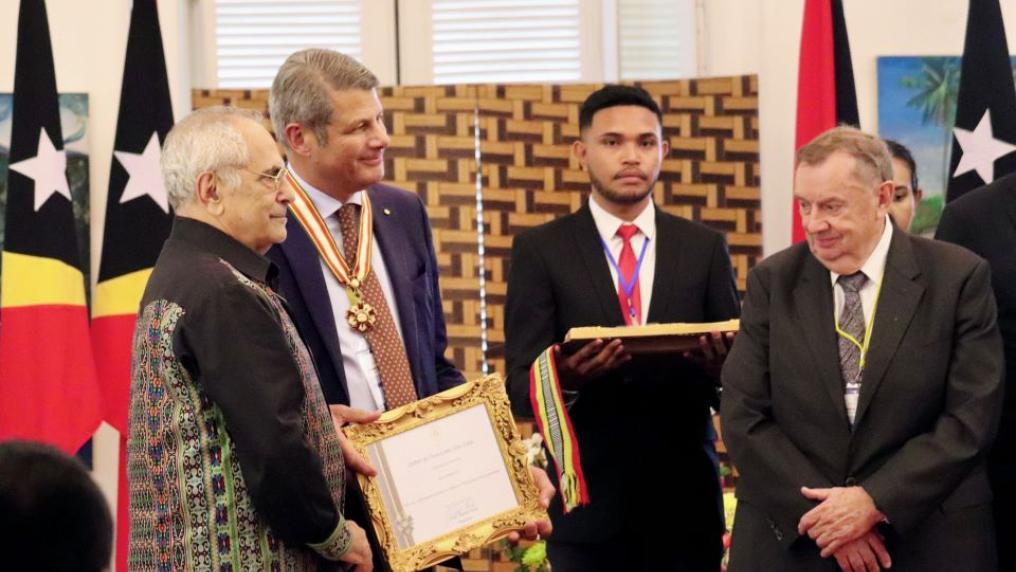 VU Chancellor Steve Bracks has received a prestigious award from the Timor-Leste government for his decades of work as a special adviser.
Wednesday 24 May 2023
Victoria University (VU) Chancellor the Honourable Steve Bracks AC last week received a rare award from Timor-Leste President José Ramos-Horta recognising his decades of work in the development and growth of one of the world's youngest countries.
Mr Bracks is one of the few foreigners – which includes former Governor General Sir Peter Cosgrove, former chief Marshall of the Royal Australian Air Force Sir Angus Houston, and American intellectual Noam Chomsky – to receive the Collar of the Order of Timor-Leste.
It has been incredibly rewarding to be involved with the people and the development of Timor-Leste over many years, and I am honoured that my contributions have been recognised.
Philanthropist Harold Mitchell AC, the namesake of VU's Mitchell Institute, also received the award. Mr Mitchell has a long history of supporting the country's development and contributing to a range of programs and research.
The Orders were conferred at a celebration to mark the 21st anniversary of the country's independence at the Presidential Palace in Dili, and on the eve of Timor-Leste's most recent election.
Commitment to Timor-Leste over many decades
Mr Bracks has made more than 50 trips to Timor-Leste, which began when he visited the new nation as the Premier of Victoria in 2002.
After Mr Bracks resigned as Premier in 2007, his enduring friendships with the nation's new leaders led to him volunteering as a special governance adviser to the new Prime Minister Xanana Gusmao.
Over the following decade, Mr Bracks led more than 20 missions to the country, and was heavily involved in the formation of Timor-Leste's architecture of government, including helping to establish its Civil Service Commission, Anti-Corruption Commission, and financial audit procedures.
Victoria University's commitment to Timor-Leste dates back decades and includes contributions to the country's education, economy, society and environment. This includes:
educating many emerging and current Timorese leaders in government, business, education and research
signing an MOU with Dili University, marked by an annual conference to network and exchange curricula and ideas
hosting the Timor-Leste honorary consulate for many years
awarding both President Ramos-Horta and former Prime Minister Gusmao distinguished visiting professorships of VU, and VU honorary doctorates.
"Victoria University has had a long and important relationship with the people of Timor-Leste and one that we want to enrich even further," said Mr Bracks.
"One of my main future aims is to develop a scholarship program to further build the capacity and skills of Timorese nationals," he said.
---
Listen to the SBS podcast, Steve Bracks to receive rare honour from Timor-Leste.