The first students to complete a full degree in Victoria University's revolutionary block teaching model will graduate this year, and data shows they have gained better grades and been more satisfied with their course than their predecessors.
Block teaching, first introduced at VU in 2018, requires students to study one subject at a time. Each subject is delivered in a concentrated four-week "block", with eight study blocks a year in a full course load.
Another key feature is that all teaching is delivered in small classes of about 30 students, who have the opportunity to interact with their instructors and fellow students.
Imogen Hair, who will graduate this year from a bachelor of business with a major in event management, is in the first group to complete its entire degree in block teaching mode.
She said the fact that she was able to focus on one subject at a time made it easier to stay on track.
Ms Hair also felt the short four-week time frame for each subject helped prepare her for her career.
"Getting projects done in four weeks is a more professional experience than getting projects done over 12 weeks," she said.
Mae Johnson, who is about to complete her four-year honours degree in law, spent part of her degree being taught conventionally, where she said the larger class sizes had made it more difficult to establish relationships with teachers and other students.
"You get to really meet people in block teaching and establish relationships with your teachers and students as well," she said. Ms Johnson also appreciated studying one subject at a time.
"You focus on one subject which is your whole priority rather than having four units which you have to juggle," she said.
For VU vice-chancellor Peter Dawkins, who is retiring at the end of the year after a decade in the role, the success of block teaching is a capstone to his career.
"It's very pleasing what we've achieved. We did expect it to have a positive impact on student learning but I think the impact has been probably even bigger than we expected and it's been sustained," Professor Dawkins said.
VU says that student achievement has increased since block teaching was introduced, with more students passing courses and more being awarded distinctions and high distinctions. Student retention has also improved, according to the university's data.
The change is such that the 650 students who will graduate this year after completing their three-year degree entirely in block mode represent a significantly larger group than would have been expected if the students had been taught conventionally. Based on the experience of the last cohort of graduates who completed their degrees prior to block mode being introduced, the 650-strong group of graduates would have been 12 per cent smaller, at 570, if taught conventionally.
VU has also shown marked improvement on key student satisfaction measures since the introduction of block teaching, with more first-year students ­giving the university a tick for teaching quality and learner ­engagement.
Interestingly, even though block teaching has extra costs, because students are divided into smaller classes, VU's teaching ­operations have become more ­efficient, not less, since it was introduced.
According to the Higher Education and Research Group's Research and Education Efficiency Frontier (REEF) Index, VU's teaching efficiency — measured by number of students per dollar spent by the university — increased sharply in 2018 and 2019 after block teaching was introduced. By 2019 it was more than 15 per cent higher than the average of the years from 2013 to 2017.
In 2018, the latest year for which full data is published, VU is well ahead of every other university in Australia in its teaching ­efficiency, according to the REEF Index.
Professor Dawkins attributed the ­efficiency to improved student retention, the phasing out of courses that had small numbers of students, a new enterprise bargaining agreement and increase in the number of hours that academics taught.
VU said that, in 2016, its academics taught an average of 142 hours annually, but in 2020 this had risen to 233 hours, or 64 per cent more hours.
by Tim Todd, The Australian (article access requires subscription)
Contact us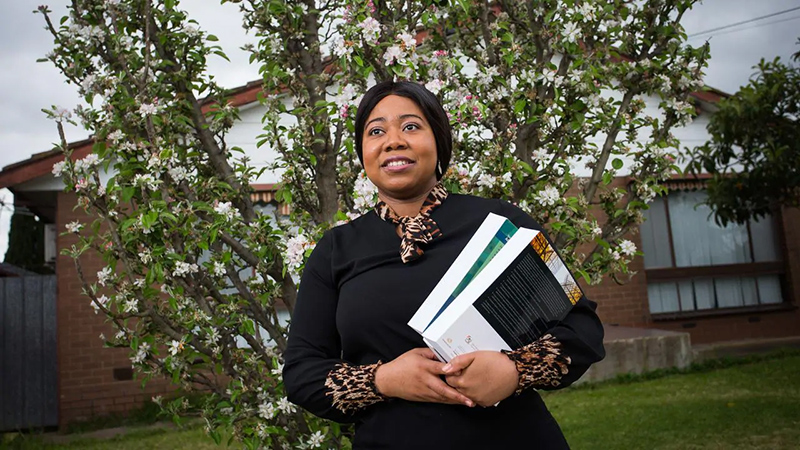 Honours law student Mae Johnson has benefited from the VU Block Model:
"You focus on one subject which is your whole priority rather than having four units which you have to juggle."