Big year for STEM Sisters' founder & award-winning researcher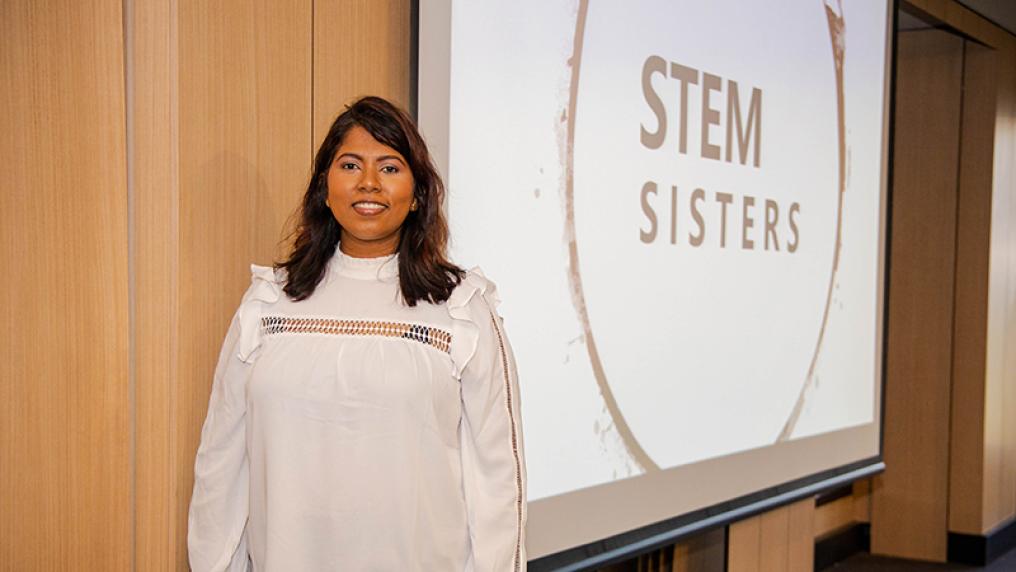 The year 2019 has been huge for Victoria University researcher, lecturer, and women's advocate, Ruwangi Fernando.
Friday 29 November 2019
The year 2019 has been huge for Victoria University researcher, lecturer, and women's advocate, Ruwangi Fernando.
The Sri Lankan–born PhD student is already at the top of her field. She has received accolades for her research, which focuses on how computer algorithms can predict and plan for traffic disruptions caused by major events, such as football games or concerts.
The research this year earned a full scholarship from Data 61 CSIRO. It was also named a finalist in the 2019 Victorian International Education Awards, as well as the 2019 Visualise your Thesis contest, an international competition of graduate researchers from 16 universities in four countries.
Ruwangi studies at VU's Centre for Applied Informatics in the Institute for Sustainable Industries and Liveable Cities, and is a lecturer in VU's the College of Business. She also has a Research Ambassador role, providing peer-to-peer support to other VU researchers.
Ruwangi somehow finds additional time to be an Australian Postgraduate Research Intern (APR.intern) with the Department of Transport in Victoria, directly using her research to investigate the impact of planned disruptions in the state.
Leading by example
On top of all this, Ruwangi believes in giving back. In late 2017, she established a women's group at VU called STEM Sisters as a solution to the frustrations she had faced in the traditionally male-dominated area of engineering and science, especially as an international student. In October 2019, the STEM Sisters Mentoring program was launched.
"Women are under-represented academically and professionally in STEM areas, so this is all about boosting those numbers with mentors – women who've been where their mentees have been, and understand what they're going through."
The group meets regularly to attract, support, empower and celebrate female international students and migrants aspiring to become researchers, engineers or scientists in STEM fields. Their mentors, usually female VU graduates, help guide their 'sisters' through the university experience, while sharing their experiences, insights, and networks of other women in the field.
STEM Sisters was named a finalist in the 2019 EduGrowth LaunchPad Business Start business plan competition.
Ruwangi founded the group through a VU Student Experience Initiative fund, which provides grants of up to $10,000 for groups or individuals to develop and deliver a project that benefits other VU students.
"I know firsthand just how hard it is to arrive in a new country, to not know anyone, the cultures, the customs or anything," she said.
"I began STEM Sisters because I wanted other women not to have to struggle the way I did."
Ruwangi received another accolade in 2019 when the Victorian Government named her a 2019 Study Melbourne Ambassador – a position awarded to only 15 international students and alumni each year to assist other international students get the most from their study experiences.
She completed a bachelor's degree from the University of Colombo and her masters degree in information technology from the University of Wolverhampton.