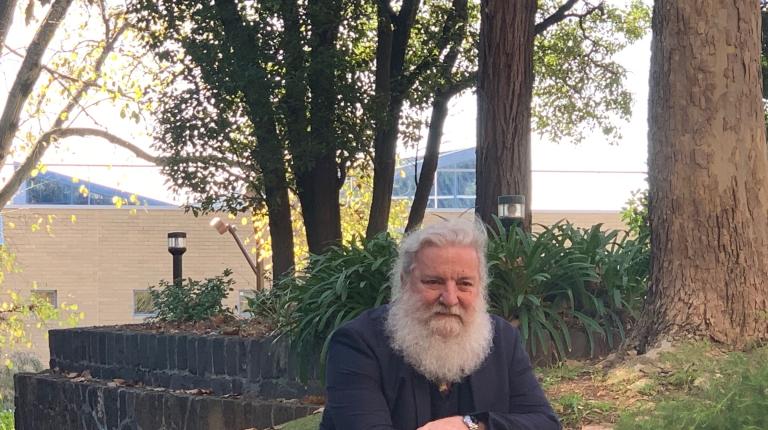 Despite the fact that Professor David Helfand's trip to Australia has been a flying visit, his engagement with students and staff looks set to make a lasting impression.
Today Helfand, the Chair of the Department of Astronomy at New York's Columbia University and former President of Quest University (Canada), took the opportunity to visit Footscray Park campus, connect with staff and students and hear firsthand what VU students think about the revolutionary Block Model.
Tonight this global pioneer and force behind Block Model teaching and learning will deliver a free public lecture — Just focus! The joys & challenges of teaching on the block.
Praise for the model's first year
In Janelle Hill's lecture (Educating STEM) several students praised the VU Block Model, its flexibility, the advantages of group learning and smaller class sizes, and, in particular, the speed of assessments. "All my friends at other Uni's are sitting exams right now, but I already know I've passed three of my units," said one student.
In the First Year Model fortnightly meeting with Professor Ian Solomonides (Vice-President Learning and Teaching), Professor Andrew Smallridge (Dean, First Year College) and VU colleagues, Professor Helfand said he was "awestruck and inspired that VU could do something like this, in a university of this size, over the timeframe in which you've done it. I've spent most of the last 42 years trying to change a 270 year-old institution; I know it's very difficult."
Model awarded for innovation
With smaller classes, prompt feedback, and complementary activities such as leadership development, Victoria University is the first Australian university to use a Block Model. In 2018, VU's radical reinvention of higher education won the Award for Innovation at the Australian International Education Congress (AIEC), the largest gathering focusing on international education in Asia-Pacific.
Today it was announced that the VU Block Model is a finalist in two categories in the UK's PIEoneer Awards 2019. The organisation based in London celebrates innovation and achievement in international education and will be announced on Thursday 19 September 2019.