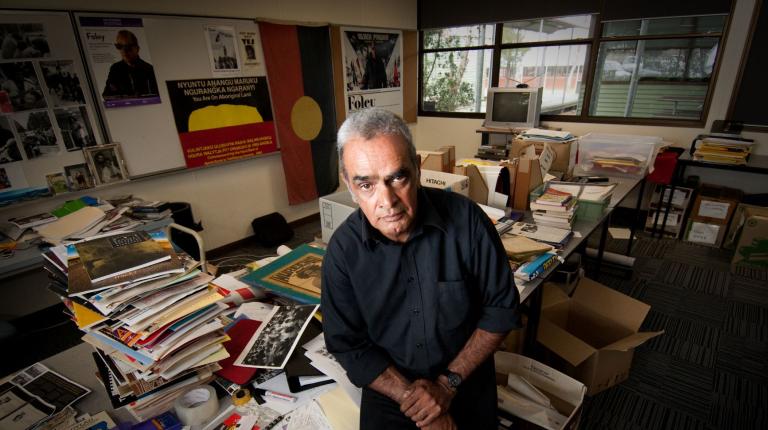 Victoria University researchers are building the country's first archive of resources that alters the current colonial bias of how Australia's Aboriginal political history is understood.
The Aboriginal History Archive (AHA) comprises thousands of rare photos, videos, campaign ephemera, press clippings, and manuscripts that document the country's Black Power and self-determination movements, and other key events.
Since 2017, this valuable material has been carefully digitised and categorised for an online database with the support of the Australian Research Council.
Digitising the collection opens up enormous opportunities for understanding Australia's contemporary history for Aboriginal and non-Aboriginal Australians, educators, students, historians, academics and new generations of activists.
The Archive is the centrepiece of VU's Aboriginal and Torres Strait Islander Research conducted within its Moondani Balluk Indigenous Academic Unit.
Much of the content was gathered over more than 50 years by VU academic and historian Professor Gary Foley and AHA lead Chief Investigator. Professor Foley was a key figure in the self-determination movement that emerged in the early 1970s, including helping to establish the 1972 Aboriginal Embassy.
Other materials have been donated by individuals and community organisations.
The evidence captured in this foundational research achieved top impact ratings in the Australian Research Council's first Engagement and Impact Assessment National Report earlier this year.
Dr Edwina Howell, one of the Archive's Chief Investigators, says the AHA enables greater accuracy, understanding and validity in research and analysis in Australia's Indigenous social, political and cultural activity than previously possible.
 "The AHA offers the material upon which the dominant version of post-invasion Australian history can be challenged, reappraised and rewritten. It contains the documentation not only of exploitation, repression and suffering, but also, more importantly, of Aboriginal struggle, confidence, pride and innovation."
Future plans for the AHA include using it to create targeted classroom curriculum to highlight significant chapters in Aboriginal history that were previously misrepresented.