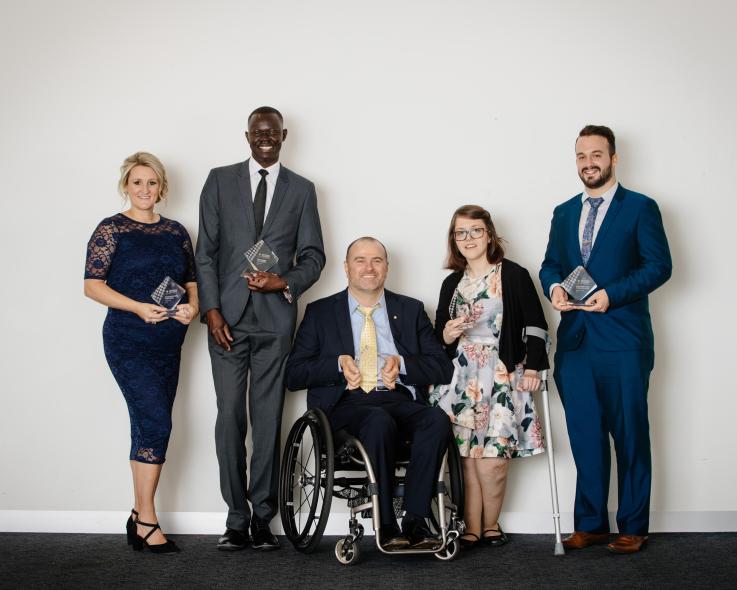 We are thrilled to announce the finalists for the 2018 Alumni Awards.
The Alumni Awards celebrate and formally recognise the achievements and contribution our alumni have made to our university, to the west of Melbourne, to our nation and across the global stage.
The Victoria University of today is built on the successes of our alumni, and we are incredibly proud of their legacy.
The recipients in each category will be announced at the 2018 VU Alumni Awards Presentation Event at Etihad Stadium on Tuesday, 2 October 2018.
Lifetime Achievement Alumni Award
Carol Fox
Principal, executive coach, author, speaker and trainer – Carol Fox and Co. 
Bachelor of Applied Science (Physical Education), Master of Arts
Dr Bill Petreski
Principal Consultant and MD - Strategy 61.
Bachelor of Applied Science (Physics and Computing Science), Doctor of Philosophy (Physics and Photonics)
Dr Adrian Stoica
Senior Research Scientist - NASA Jet Propulsion Laboratory California Institute of Technology.
Doctor of Philosophy
Pema Tenzin
Sustainable Business Developer, Bhutan Walkers Travel
Master of Business Administration
Professional Achievement Alumni Award
Helen Killmier
CEO / Principal Psychologist - Guidestar
Graduate Diploma in Applied Psychology, Master of Applied Psychology
Danny Morseu
Teachers Aid - Wilsontin State High School Toowoomba
Bachelor of Arts (Recreation)
Oliver Percovich
Founder and Executive Director - Skateistan
Bachelor of Science (First Class Honours)
Sara Prendergast
Senior Manager, Performance Reporting - Orica Asia Pacific
Bachelor of Business (Applied Economics and Marketing), Master of Business Administration (Accounting)
Meritorious Service Alumni Award
Dr Kathryn Dempsey
Manager - Kate Dempsey and Associates
Doctor of Philosophy
Daniel Haile-Michael
Project Engineer - Mount Alexander Shire
Bachelor of Engineering (Civil)
Chris Hatzistavrou
Senior Quality and Compliance Manager - Skilltech Consulting
Certificate IV in Occupational Health and Safety
Michael Jackson
VU Adjunct Professor, self employed farmer
Graduate Diploma in Project Management, Masters of Engineering
Rising Star Alumni Award
Luba Grigorovitch
Victorian State Secretary - Rail, Tram and Bus Union
Bachelor of Business (Event Management)/Bachelor of Arts (Sports Administration)
Vince Luong
Founder and Chief Executive Officer - Weploy, Nordik Living, Allure Bathrooms and other companies
Bachelor of Business
Maeve Ryan
Participation Membership and Operations Manager - AFL
Bachelor of Exercise Science and Human Movement, Master of Business Administration (Sport Business)
Dr Melissa Weinberg
Psychologist in private practice
Master of Applied Psychology (Sport)
Outstanding Student - Future Alumni Award
Meghann Clark
Bachelor of Laws / Bachelor of Arts
Pragya Kapil
Masters of International Community Development
Lawry Mahon
Doctor of Philosophy (Education)
We would like to thank all those who have taken the time to nominate and help us identify exceptional alumni who have achieved success in their field and made an impact in the community.