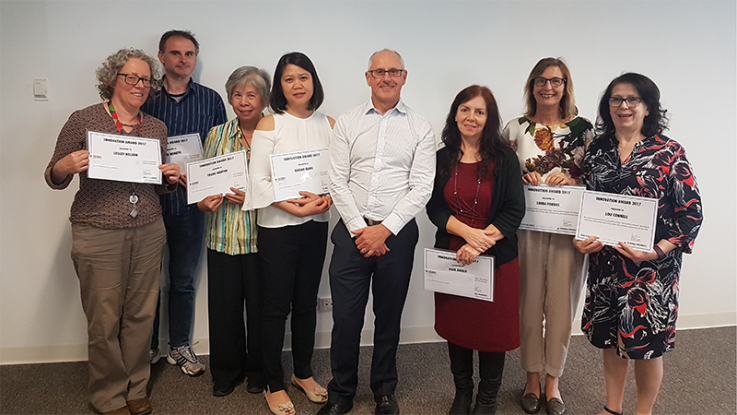 Victoria University Library, Records and Archives Services staff were recently recognised for outstanding contribution, service or innovation with the presentation of the 2017 Library, Records & Archives Awards.
The recognition comes from nominations by VU staff and students for the Outstanding Contribution Award and the Service Award, and nominations by only Library, Records & Archives staff for the Innovation Award.
Outstanding Contribution Award: Lou Connell & John Tripotseris
Lou Connell and John Tripotseris have provided exemplar service to the College of Business over 10 years. They have gone above and beyond to understand the needs of the college and their students, and are always more than willing to help staff and students in any way. They run academic skills workshops after hours without hesitation. "Lou and John are an integral link to the success of students and staff in the College of Business."
Service Award: Robyn Bousie
As a tireless and exemplar member of the VU Campus Library team for more than 20 years, Robyn Bousie has supported students at the Newport Campus Library, and worked as a Librarian at both Footscray Park and the City Libraries. This year Robyn has most notably provided outstanding service to support LibChat (Chat with a Librarian), personally handling over 250 queries and on many occasions volunteering to cover extra shifts at short notice.
Innovation Award: Readings (eReserve Plus) Student Reading List Software Project Teams
Readings is the tool that allows teaching staff to store, review, organise and share student readings within VU Collaborate, and comply with copyright requirements.  The innovation award was presented to three library teams:
Readings Data Migration Team: Phung Tran, Khanh Dang, Trang Nguyen, Vien Nguyen, Theresa Pfeiffer, Tom Nemeth and Nadia Ghaly. This group of staff successfully migrated over 2,000 readings in a matter of weeks to the new eReserve platform. They are a shining example of staff being able to quickly acquire the skills to effectively work in an unfamiliar digital environment to help the University with blended learning.
Readings Platform Functionality Team: Lesley Nelson and Jennifer Murphy. They worked tirelessly to enhance the functionality of the eReserve platform to match the needs of academic practice in a blended learning environment. They helped develop the 'peppering' resource linking functionality for a complicated integration between the eReserve platform and unit templates. VU became the first University to apply this functionality.
College Librarians: Lou Connell, Murray Greenway, Linda Forbes, Pam Abalo and Suzanne Poliness. The College Librarians provided training to College staff, and assisted with the rapid implementation and uptake of Readings by activating the system within unit spaces as well as sourcing, uploading and entering the data for material on behalf of the College during the busy semester one period.