Women in trades: Kyriaky Hadji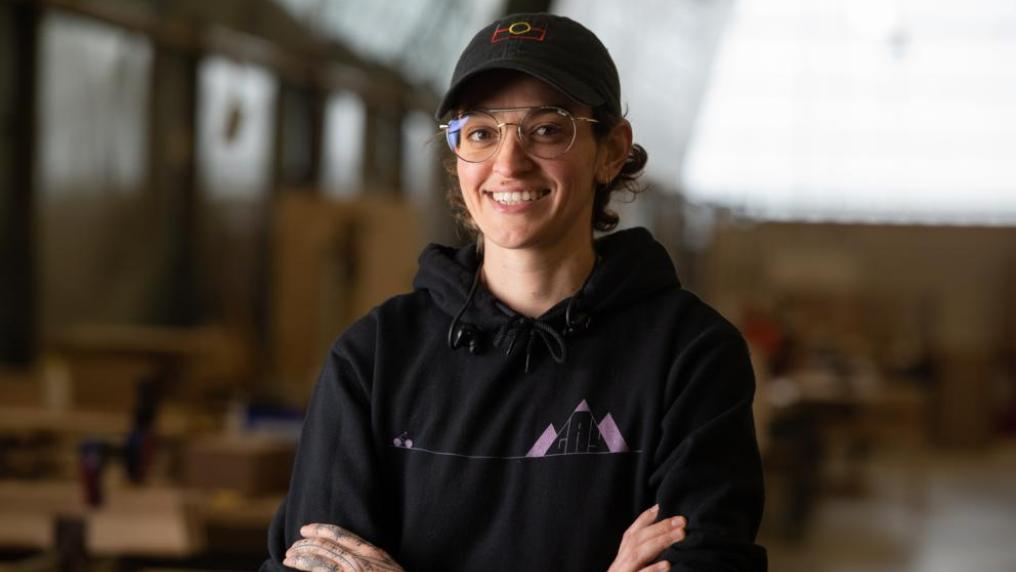 To be a female in this sector now in 2022 is to be pushing boundaries, opening doors and inspiring other women to have the courage to follow.
Kyriaky Hadji
Teacher, Cabinet making
As part of our Women in Trades series, we sat down with Kyriaky, teacher in cabinet making at VU Polytechnic, to hear their thoughts on being a non-binary, queer teacher in a male-dominated field.
Tell us about yourself
I've spent the last 3 years completing my Certificate II & III in Cabinet Making. Most recently I finished up my placement with Bombora Custom Furniture, based in Torquay. At Bombora I was able to fortify my skills and knowledge by specialising in and building specific, customised solid timber furniture pieces.
What do you enjoy most about teaching/working in trades?
I enjoy being able to represent my community as a non-binary, queer furniture maker/teacher both within the industry and TAFE sector. Being visible and having the skill level and competencies that are necessary within a male-dominant environment is very gratifying. I feel privileged that I can share my passion of furniture making with others. 
Being able to work with students, educating like-minded, passionate people, and advocating for women, gender-diverse and the LGBTQIA+ community, is something that brings me joy as it enables me to share my knowledge and skills both in the classroom and in the workshop. To see others learn and gain confidence under my advice and guidance is very rewarding.
How does VU Polytechnic prepare students for work?
Training at VU Polytechnic enables students to receive insight into what will be expected within the industry. From the practical learning of multiple types of machinery and hand tools, to theorising industry rules and regulations, to understanding associated costs and sustainability practices, students can familiarise themselves with many aspects that they will unquestionably be exposed to within the industry. Ultimately, it is the coupling of both theory and practice that provides a well-rounded classroom experience in readiness for what the trade has to offer. 
What are the most important skills needed to work in trades?
I believe the most important skills to have in a trades environment is the ability to communicate effectively, an eagerness to learn, patience, a willing "hands-on" attitude, and the ability to listen and understand what is being taught or said. These attributes would be advantageous for anyone working or learning within the trades industry. 
What are your top trade tips, especially for females?
In the past women were not really addressed in this kind of industry, so to be a female in this sector now in 2022 is to be pushing boundaries, opening doors and inspiring other women to have the courage to follow and nurture what was at first just a small idea or instinct buried under the stereo-typical mindset of others.
My best advice for any current or prospective female or gender-diverse students would be to "keep going" or to "give it a try". Anything new or different can be daunting, but it could also turn out to be an amazing experience. Going against social norms and studying/working in a male dominated industry can be intimidating, but there is nothing to lose and plenty to gain, including an abundance of knowledge, skills and maybe even some new friends along the way.