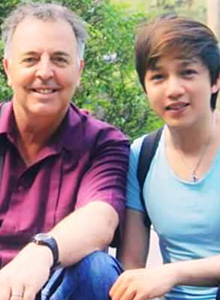 In a remote village 25km from Quang Nam, a province in central Vietnam, young and old flock to the home of Victoria University (VU) alumnus Hoang Cuong.
Once inside, they promptly take their seats in the "classroom" that is Hoang's living room, eager to receive their daily dose of English language lessons.
In a tale of humble beginnings, Hoang (pictured right with VU Professor Tarquam McKenna) has opened up his home to provide low-cost classes in English language speaking, reading, writing and listening to his community.
Known as Australia Vietnam Creation English, the centre officially opened this March with 30 students and has since grown to a cohort of more than 100 pupils, ranging in age from seven to 45-years-old.
"In my area there are a lot of foreign companies but the people in my village, their English is very poor so they cannot get a job at these foreign companies," Hoang, 32, says.
"So with my English knowledge I want to help people get better at English so they can have a better future," he says.
Hoang came to VU in 2013 to complete his Master of TESOL Education, building on his English teaching degree at the University of Foreign Language Studies in Da Nang.
"VU is very famous in Vietnam; some of my friends have studied at VU and they said the teachers are very qualified and friendly, so that's why I chose VU.
"The course taught me new ways of teaching and it enabled me to open my own centre because in Vietnam, you cannot open a centre without a master degree.
"In my country, if you have a higher degree you will be famous and respected. So as well as helping people to get better knowledge, I have also earned the respect of many people."
Hoang says he is grateful for the opportunities he has received at VU, particularly the support of Professor Tarquam McKenna from the College of Education.
"If I could say thank you to VU, I would say thank you so much for everything you have given me.
"I would also give my best compliments to my teachers because they are so qualified, friendly and were always there to give me advice or help with any problems I had.
"VU is my favourite university."
Courses studied
Master of TESOL Education (no longer offered)