Meredith's passion for law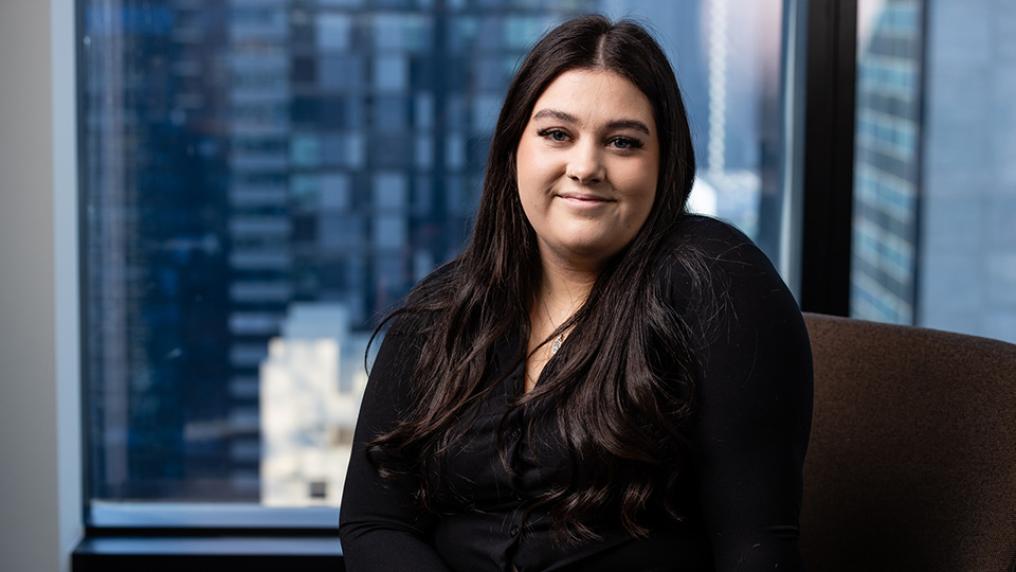 I had my heart set on law, and I found out that VU offered a pathway that I didn't see at any other uni.
Meredith Hunt
Bachelor of Laws/Bachelor of Criminology
Law student Meredith Hunt shares how VU helped her find a pathway to her dream course – and how her love for law is continuing to grow through her studies.
"When I was younger, I was always watching crime documentaries and was really interested in crime. I still am. That's why I wanted to study law and criminology, so I would be able to contribute to the criminal justice system in some way.
"When I finished year 12, I didn't get the ATAR that I wanted, but I had my heart set on law.
"I found out that VU offered a pathway that I didn't see at any other uni – through the Advanced Diploma of Legal Practice 22565VIC , which gives you guaranteed entry into the law degree. I went to the VU Open Day and I thought, 'I definitely want to do that.'
"So, I did the Advanced Diploma for a year and a half, and the more I learned, the more I fell in love with law and the idea of becoming an advocate among the legal system. That's what drove me to want to become a really good lawyer.
"After that I went straight into the double degree, Bachelor of Laws/Bachelor of Criminology . I'm currently in my fourth year and I love it."
The value of hands-on learning
I believe that the VU Block Model is highly valuable for students. Being able to focus on one unit at a time has been extremely beneficial – not only for my studies but also for my mental health, which is also important to take care of.
"The other aspect of the course I really like is that it's so hands-on. I feel like other universities are deeply theoretical in their approach. Sure, you can learn the physicalities when you're on the job, but at VU you learn it in your course before you're actually out in the workforce.
"The College of Law and Justice offers moot courts of all different types of law and procedure, where you can go and pretend to advocate in mock trials. I've done a few of those and I've really enjoyed them."
An inspiring study environment
"Now that the new VU City Tower has been built, we have some of our classes there. I love it – it's a beautiful tower, it's gorgeous. It's got all these nooks and crannies where you can study and overlook the city, and it's just nice having something really modern.
"Because the Queen St building with the moot courts is a beautiful old heritage building, it's really nice having them both next door."
On the path to a future in law
"I'm currently employed as a Legal Support Officer at the Office of Public Prosecutions. I would hopefully like to become a Junior Solicitor there after I graduate and become admitted.
"I'm achieving my dream of becoming a great lawyer with the support from VU!"
Interested in a career in law & justice?
Prepare for a fascinating and rewarding career in law at VU, studying at our City Campus in the heart of Melbourne's law district.