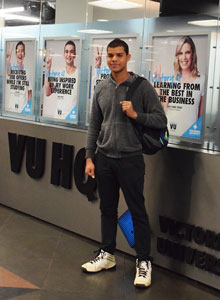 To international student Adrien Pierre, Victoria University (VU) is "more than just a university".
"There are so many social clubs, libraries and great fitness centres," the 20-year-old says.
"All these things make Victoria University such a great place; it's more than just a university," he says.
Adrien moved to Melbourne in 2016 from the island nation of Mauritius to study the Diploma of Information Technology at VU College.
VU College is a specialist teaching institute of VU that provides diploma-to-degree pathways for both domestic and international students. Upon successful completion of a one-year higher education diploma at VU College, students are guaranteed entry to the second year of the corresponding bachelor degree at VU.
The Diploma of Information Technology, which is delivered at VU's Footscray Nicholson campus, will enable Adrien to enter the second year of the Bachelor of Information Technology when he finishes the course later this year.
"I studied computing in Year 10 but was unable to do it in Year 12 in my home country because of subject clashes.
"IT has always been my passion so when I discovered the opportunity to study IT at VU, I took it.
"The great thing about the diploma is that I will be in the second year of the bachelor degree next year."
Adrien says the friendly and supportive teachers, diverse student mix and close proximity to public transport make VU a great university to study at.
"The lecturers make the course very easy to understand and they always provide support," he says.
"I also like that I can meet people from different cultures and one of the best things about VU is that every campus is located near a train station, and the public transport is really good here."
Despite growing up in a country with some of the world's best beaches and a warm, tropical climate, Adrien says Melbourne has many assets of its own.
"Melbourne is one of the most beautiful cities in the world – it's got great food, people and culture, and the quality of life is very good here.
"I knew when I came here I wouldn't be alone because my brother and other family members live here too."
Courses studied