Focus on the journey and not the destination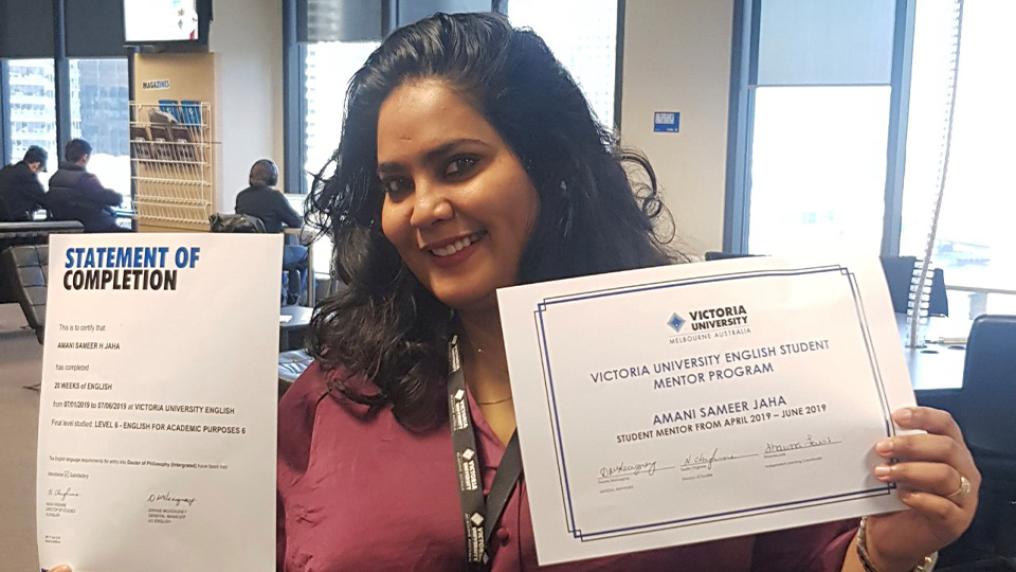 The skill sets I am learning through Victoria University's integrated PhD program and additional workshops outside of my academics support both my career endeavours.
Amani Sameer Jaha (Saudi Arabia)
Doctor of Philosophy (Integrated)
In January 2018, Amani Sameer Jaha moved from Saudi Arabia to Australia to study English. She later enrolled in a Doctor of Philosophy (Integrated) at Victoria University (VU) with support from the Saudi Arabian Cultural Mission (SACM). SACM provides a full tuition fee waiver and a financial stipend, and additional benefits such as Overseas Student Health Cover (OSHC).
In a recent conversation with VU, Amani shared her thoughts on her study journey at VU and why her focus is rooted in the present moment rather than the future.
Marrying blockchain technology and pharmaceuticals
Amani's PhD research focuses on enabler factors for blockchain technology adoption within the pharmaceutical supply chain in Saudi Arabia. Blockchain is a data storage system commonly used for cryptocurrencies, but can also be applied in many other industries, including supply chain management.
The program is an integrated PhD program that provides training in best-practice research methods in the first year, after which students begin their own original research. They also get to present their research in a variety of contexts, including journals and conferences.
Amani's passion for technology and pharmaceuticals grew through her past work experience in the logistics and administrative department at a Saudi Arabian hospital. She worked there for seven years and even completed a Master of Logistics and Supply Chain Management in Saudi Arabia.
I was keen to combine both my passions in my PhD work. I also contextualised my work in the pharmaceutical industry because this essential sector was greatly affected by the COVID-19 crisis
Choosing VU
Amani chose to study at VU because of the research excellence housed at the university. Without the support of expert academics and excellent supervision, she explains, a PhD is hard to pursue.
"I am very grateful for the guidance I've received from my supervisor since day one," says Amani.
When she first applied for admission to the university, Amani found the application process incredibly streamlined. She adds that the staff at VU were always ready to answer her queries.
"The staff at Victoria University also maintained a strong channel of communication with me while I was in Saudi Arabia conducting data collection and ended up being stuck there due to Australian border closures."
Not only is this type of support crucial for completing PhD research, but it's all the more important when you end up physically disconnected from your university, supervisors and networks on campus.
"Moreover, I was facing a range of medical issues and happened to spend most of 2021 in the hospital. I am thankful for the university community that kept me afloat and supported me during my challenging times."
Treasuring the journey
According to Amani, one of her key takeaways from these experiences is that life is uncertain. As a result, she explains, it is important to enjoy one's journey - whether it is academic, professional or personal. If we get too busy planning each and every step in life with great detail, then we can often forget to cherish the little things in life that can actually be the greatest source of joy.
"I want to enjoy my academic, professional and personal journey, instead of having a tunnel vision focus on my future."
However, that doesn't mean that Amani isn't planning for the future at all.
"I see myself working as a part-time academic while also doing something more practical in the logistics field. The skill sets I am learning through Victoria University's integrated PhD program and additional workshops outside of my academics support both my career endeavours."