A fulfilling future in early childhood education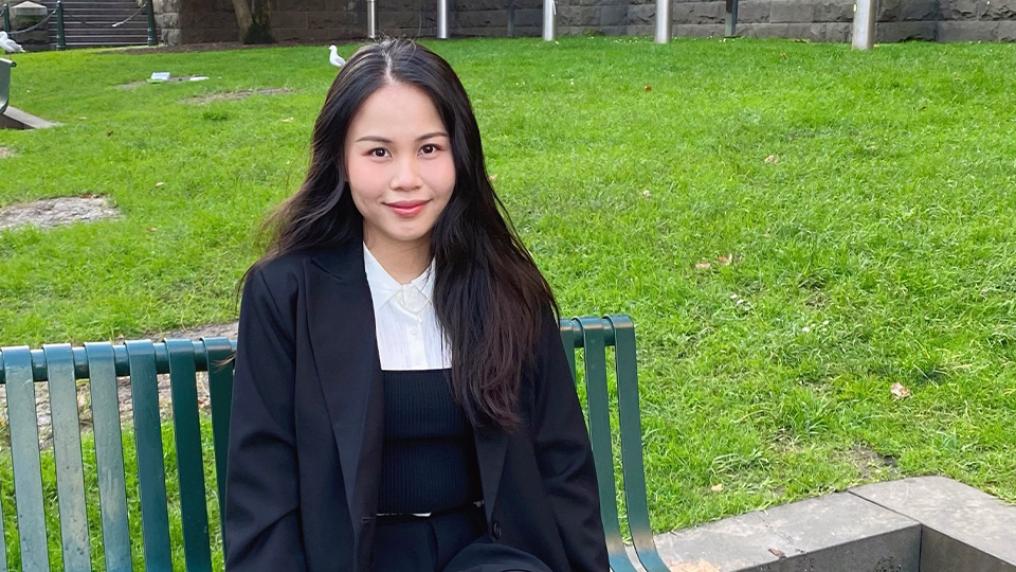 Thanks to this experience, I am able to interact with children and design activities in a way that is most suitable and effective for them.
Thuy Duong
Graduate Diploma in Early Childhood Education
Thuy's interest in education started in high school, when she saw the significant impact that education can have on a person's life, personality and growth. By pursuing a career in education, Thuy realised she could have a powerful influence on society.
This led Thuy to travel from her home country of Vietnam, to pursue a Graduate Diploma in Early Childhood Education at Victoria University (VU).
The exciting impact of early childhood education (ECE)
After completing her Master of Teaching English to Speakers of Other Languages (TESOL) at La Trobe University in 2020, Thuy came to the realisation that the early years of a child's life are one of the most critical times in terms of education – not only in languages, but all areas. 
It was then that she decided that she wanted to learn effective methods of educating children at such an important age. In February 2022, she began her Graduate Diploma in Early Childhood Education at VU.
"Australia is known for high-quality education and top worldwide-ranked institutions with a range of student support services," she says.
In Australia, I get to study and live in a safe and clean environment, while enjoying the beautiful scenery and the multicultural societies here.
Finding more time to focus thanks to the VU Block Model
Thuy chose VU to further her studies, following recommendations from friends who studied at VU and found jobs in the field of ECE. 
She was drawn to VU's interesting and practical study program and curriculum, particularly the VU Block Model.
VU's Block Model allows students who are undertaking an undergraduate degree or diploma to complete one subject at a time, through interactive, workshop-style classes. 
"There is more time for me to study and research in-depth for each assignment, instead of struggling with four assignments due at the same time," says Thuy. "I have three classes of the same subject a week, hence I get to discuss directly with my lecturer on a regular basis and ask questions about my study and assignments when I need to."
When theory meets practice
Through her industry placements, Thuy has been able to work with children of all age groups. She's also had the chance to observe different teachers and educators, acquiring both theoretical and practical knowledge.
"Thanks to this experience, I am able to interact with children and design activities in a way that is most suitable and effective for them."
Thuy has been especially impressed by the level of planning that has gone into coordinating the learning curriculum at VU. 
Theories being taught in Thuy's classes align perfectly with the age group of children that she has been placed with.
As a result, the observations she makes in her placement deepen her understanding of the theories she is simultaneously studying in class. In turn, Thuy also gains the opportunity to apply these theories while on placement. 
Thuy has found VU to be extremely proactive and helpful when it comes to organising placements, having organised all four of her placements.
According to Thuy, this level of assistance eliminated stress, allowing her to focus on her studies.
Practical knowledge for the future
Thuy plans to move back to Vietnam and work as an English teacher, as there is high demand for English teachers in Vietnam. This is because parents are increasingly focusing on their children developing English skills during early childhood. 
For Thuy, VU has been instrumental in pursuing her future plans.
I have been exposed to a lot of interesting and helpful learning content, which is carefully and reasonably designed and organised by VU. I have learned many new and useful teaching methods for children that I will surely apply in my future teaching in Vietnam.
Thuy is excited to graduate, so she can start applying the knowledge and practical experience she has gained through her studies at VU. 
"When I return to Vietnam, I will be confident that I have enough knowledge and experience to become an excellent educator for children."