If you are interested in studying but aren't ready to start a full course, you should consider enrolling in one or more single units of study.
Studying an individual unit is a great way to try out student life (or a subject you're interested in) without committing to completing an entire course – then finding out it's not right for you.
Single units are undertaken outside of a formal qualification framework, which means they are not counted towards completion of a qualification.
If you decide to apply for a course after you've completed a single unit, you can seek credit for that study when you apply for your new course.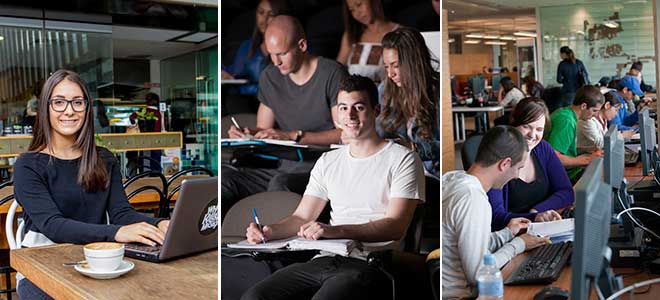 Register your interest in single units of study
If you would like to study single units, please register your interest before the end of the second week of semester.
For Semester 1, the last day to register your interest is 13 March 2017 (Semester 1 starts Monday 27 February).
For Semester 2, the last day to register your interest is 7 August 2017 (Semester 2 starts Monday 24 July).
Once you've registered your interest we'll get back to you (within a week) with all the details on how to apply & enrol.
Register your interest in studying single units
Reasons for taking single units of study
There are a number of reasons to study single units. You can try out university life or units that are part of the course you may be considering.
Single units of study are an ideal opportunity to:
quickly update your skills and knowledge in a specific area, or explore a new area (if you are considering a career change or seeking a promotion at work)
learn more about something that's always fascinated you (such as learning a new language)
save money, compared with studying a whole course.
Individual units may also be a stepping stone or pathway into further study. 
Services available after you enrol
When you enrol into single units of study, you'll become a VU student in every sense. You'll have access to:
Units available
We have a broad range of units that you can choose from covering areas of arts, business, engineering and IT, health, sport and recreation.
Units may be delivered across several campuses, so you have flexibility to attend classes at a location, day and time that best suits you. Check our 2017 timetable planner to get an idea of when classes may run for your chosen unit.
Arts & Education single units of study available
Business single units of study available
Engineering & science individual units available
Health & biomedicine single units of study available
Law & justice single units of study available
Sport single units of study available
Eligibility
All Australian residents can register interest to study single units. You should check the unit details to see if there are any prerequisite studies or pre-reading needed.  
International students
International students are not eligible to enrol in single units of study. If you are interested in studying at VU  as part of another course we encourage you to apply through our study abroad or exchange program.
Cross institutional study
If you are not a current VU student and are enrolled in a course at another institution in Australia, you can apply to study a unit at VU that will be counted towards completion of your course at your home institution.
You are considered an 'inbound' student, and should apply using the cross-institutional inbound application form.
Assessment
Depending on the unit you choose, typical assessments may include exams, essays, portfolios and presentations.
Check the unit details for more information about the assessments you'll need to submit in order to pass the unit.
Fees
All single unit studies are charged at full-fee rates (the amount is shown in the lists of available units).
Note that Government funding (e.g. HECS-HELP) is not available for these units.
An invoice will be created at the time of enrolment and then made available via MYVU Portal, which is the gateway to student systems. 
You will need to pay your fees by the date indicated on your invoice.
Your employer or other sponsor (such as a job agency) may agree to cover the cost of your study. If so, complete the External Sponsor Agreement Form - make sure it is signed by your employer/sponsor.
Once signed email it to the Sponsorship team via sponsorships@vu.edu.au (or hand it in at a Student Service Centre).